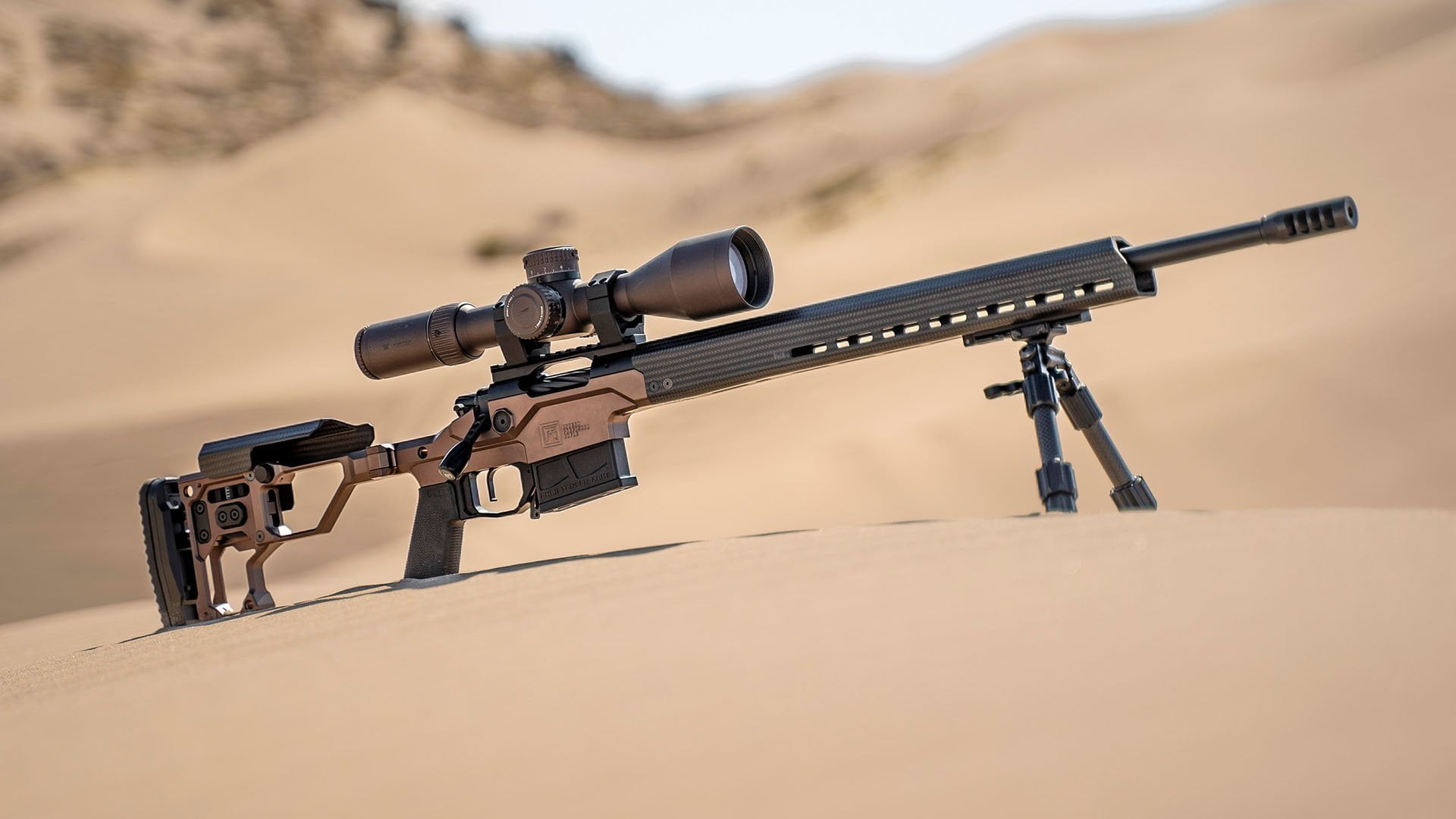 The best 338 Lapua rifles are the stuff of legend in target shooting circles. And with military snipers, if you happen to hang out with those kinds of folks.
So now you want to buy one. It might be for target shooting, it might be a big game hunting tool or it might just be you like shooting shit that's really far away. Whatever your tastes,there's a 338 Lapua sniper rifle for you.
But what is the best 338 rifle for sale in 2023?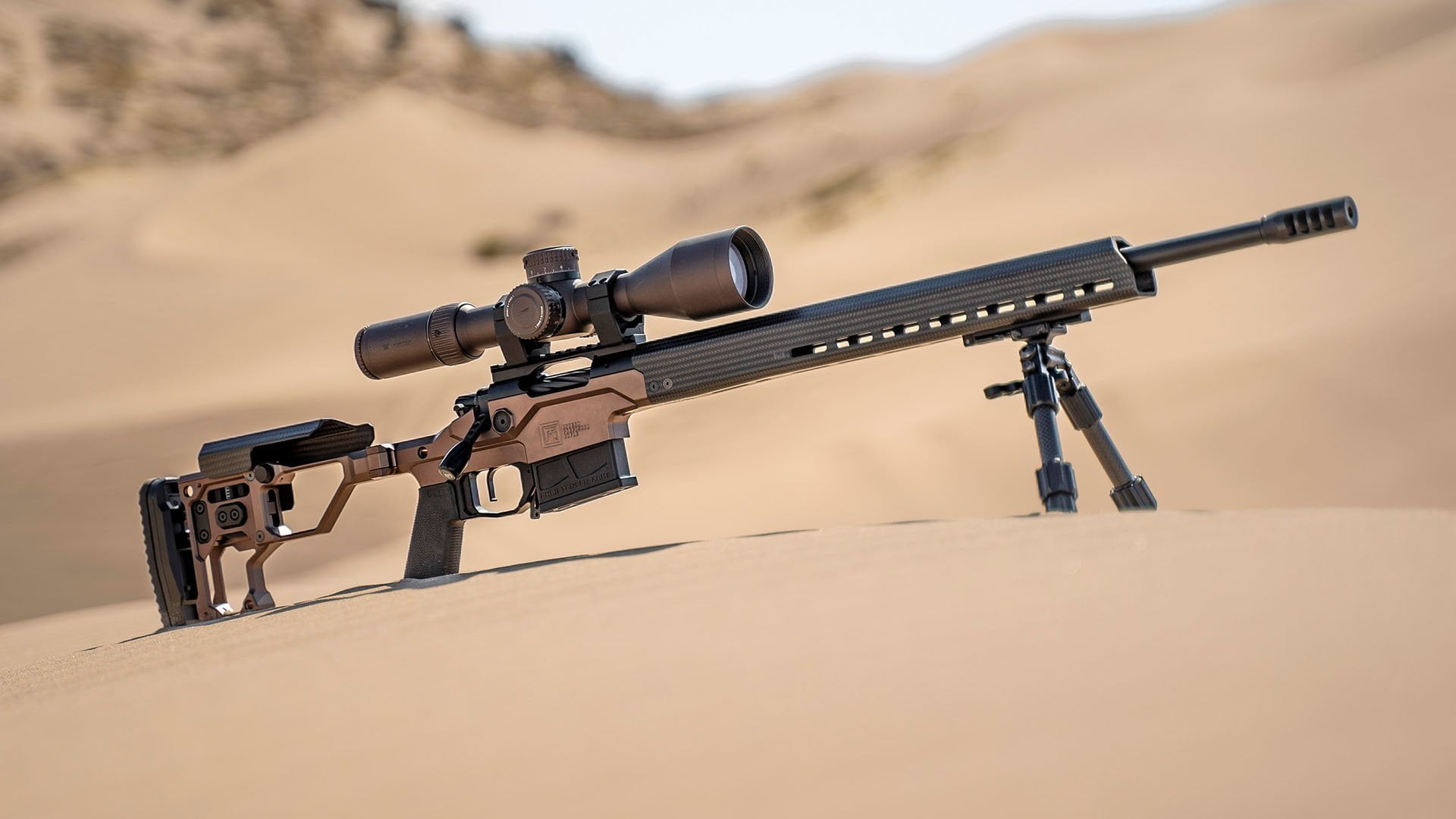 1. Christensen Arms Modern Precision Rifle 338 Lapua Magnum
Price: $2,524.99
Caliber: 338 Lapua Magnum
Barrel: 27 inch
Total: 44.5 inch
Weight: 7.9lb
The Christensen Arms Modern Precision Rifle is a portable, foldable bolt action rifle you can stow in a backpack until you need it.
A slavish dedication to lightweight design and materials means you get a full 27 inch barrel sniper rifle firing 338 Lapua Magnum that weighs less than 8lb. That's incredible.
The Christensen Arms MPR chassis is machined from billet aluminum and comes with V-block bedding for that lightweight barrel made from a thin layer of cold hammer forged steel and a carbon-fiber sleeve. It's one of our best 6.5 Creedmoor rifles, 308 Rifles and now 338 Lapua Magnum rifles.
You get more carbon fiber on the handguard and adjustable comb. And that locking hinge for the buttstock is a bold move that gives this Christensen Arms MPR the flexibility you just can't really find elsewhere.
And that's why this Christensen Arms MPR 338 Lapua Magnum is our winner. Even at this price.
---
2. Savage Arms 110 Elite Precision
Price: $2,040.99
Barrel: 27 inch
Total: 44.5 inch
Weight: 18.6lb
The Savage Arms 110 is a legend with the Long Range Hunter, the Savage 110 BA Stealth and long distance target shooters alike.
This, the Savage Arms 110 Elite Precision 338 Lapua, is about as hardcore as the company gets.
It looks like a 338 Lapua Magnum race gun. But this bolt action rifle weighs in at 18.6lb and so it really isn't as portable as it looks. That aside, it's a hell of a bolt action rifle for shooting sports.
Savage Arms normally makes its own rifles from the ground up, but sought outside help for this competition shooter.
Modular Driven Technologies supplied that Adjustable Core Competition skeletonized chassis and Savage Arms went to work on its legendary Model 110 action.
That is the heart of all kind of bolt action rifles across the land, but here is the smoothest, most polished and most advanced it has ever been. Make no mistake this is a specialist that can mix it with anything here.
---
3. Barrett MRAD 338 Lapua Magnum
Price: $6,448.99
Barrel: 26 inch
Total: 44.5 inch
Weight: 13.9lb
The US military employs the Barrett MRAD 338 Lapua Magnum bolt action rifle system for far more serious things than you or I will probably ever ask of it.
But it is pretty cool that you can buy the same Barrett MRAD Lapua rifle that takes aim at professional bad guys the world over on a weekly basis in the hands of military snipers.
Or good guys. Sometimes war is complicated.
Caliber Conversion Kits, Not More Rifles
Either way the Barrett MRAD can switch caliber and zero within a minute with limited expertise and a standard Torx wrench.
How likely are you to actually switch between 338 Lapua Magnum rifles, 6.5 Creedmoor, 308 Winchester and 300 Norma Mag to name just a few? A $1500 new mag and carbon fiber barrel seems to do the trick for a different kind of long-range shooting.
If you actually do, then this Desert Brown, black, Olive or Coyote Tan Barrett MRAD 338 Lapua Magnum rifle becomes a cost effective bolt action rifle that covers all your needs, saves space in your gun safe and is all the long range rifle you ever need.
Now if you don't switch calibers, or you have different rifles for different moods, maybe the Barrett MRAD isn't worth the money and you need a lesser price range. You can save about half the cash and spend that on bulk ammo deals. They will become increasingly important in the months ahead…
---
4. B&T APR 338 Lapua Magnum
Price: $10,030.99
Barrel:. 27"
Total: 40-52"
Weight: 17.4lb
Capacity: 10+1
Swiss engineering is famous worldwide and we have had a man crush on B&T firearms for quite some time. This fully modular chassis rifle was designed with direct inut from police and military snipers to create the ultimate 1000 yard sniper platform rifles chambered in 338 Lapua Magnum rifles.
If weight isn't a defining factor, this might just be the best rifle here. Yes it is a niche choice, and it is significantly more expensive than basically everything else. But this is a different animal. Just look at it.
Clever Design is a Weight Saver
The lower receiver basically is the chasiss, and everything hangs off it. The contact point with the uppr receiver is the bedding surface and the bolt only requires 60 degrees of rotation for fast cycling and follow up shots.
It is a high price, high spec lapua rifle for a reason. The people that rely on it just aren't allowed to miss.
Portability is a relative term, but the gun is well balanced and snag free on the move. It is designed to be lugged long distances over hostile environments and then set up for the money shot.
If you are hiking with it, though, then you'll hate it. This is not a big game hunting rifle. It is absolutely awesome at long range shooting, competition and generally just ringing bells a long way off.
Organize the price high to low and you will see this is the most expensive here. But if you have the 338 Lapua Magnum rifles bug, then you know that you probably need this bolt action rifle as well.
---
5. Ruger Precision Rifle
Price: $2,155.99
Barrel length:. 26"
Weight: 15.1lb
Capacity: 5+1
America's most popular gun manufacturer has made a Ruger Precision Rifle in almost every caliber. The 338 Lapura rifles are just as capable as the 22 Long Rifle, possibly more so, and this entry level target gun has a lot of fans around the world.
Prices are up due to a simple lack of availability, but that can change and the Ruger is normally at the lower end of the price low to high scale. Slot an Accu Tac bi-pod on the M-Lok rail handguard and you are good to go. Sandbags work, too.
So check sites like Guns.com and organise the price low to high and you might spot a bargain. Here, we'll do that search for you just in case there's something better already.
You can also get a Ruger Precision Left Hand system, which is nice for lefties.
---
6. Christensen Arms Mesa Long Range
Price: $1,473.99
Barrel length:. 26"
Weight: 10lb
Capacity: 5+1
With the precision market so well catered to up top, the Christensen Arms Mesa Long Range is an unashamed homage to the traditional hunting rifle. With some high-tech shiz thrown in.
Even though this is a seriously big game hunting round, you still get a match-grade chamber. A stainless steel barrel with a threaded muzzle brake features here. But you can drop in one of the company's carbon-fibre sleeved barrels and save more weight.
Speaking of weight saving. The Christensen Arms comes with a CF composite stock and that is plain badass. Recoil is tuned with the help of the rubber recoil pad and you can just focus on tuning the match grade trigger that offers 2.5-3.5lb of pull.
There's a lot of tech here, through the coatings on the bolt to the removable baffle brake. The thing is, though, if you don't want to worry about any of that then the Christensen Arms just feels like an onpoint 338 Lapua Mag hunting rifle.
And that is a good thing…
---
7. Accuracy International AXSR Folding Rifle
Price: $9,895.99
Barrel length:. 20"
Weight: 15.2lb
Capacity: 5+1
Effectively this is the company's bid for the US SOCOM Advanced Sniper program, which eventually went to Barrett.
That means you can switch the 20 inch fluted barrel with a 40mm Hex key andf this is another multi-caliber rifle platform. That is why it's expensive, well that and you can fire it full of sand if you have to.
Accuracy International makes one of the finest 50 BMG rifles in the world, but the 338 Lapua rifles aren't quite the same world beaters. They are exceptionally good, though, and we do like that fluted barrel on this bolt action rifle.
---
8. Sako TRG 42A1
Price: $6,499.99
Barrel length:. 27"
Weight: 13.23lb
Capacity: 5+1
Sako rifles are legendary among LEO snipers, competition shooters and general long distance nuts.
This Sako TRG is the pro version, and the pinnacle of its craft. The chassis on these bolt action rifles is really the lower receiver itself.
Now these are high price, high spec lapua rifles that generally find their way into the hands of very serious target shooting fanatics. These Lapua rifles are legendary at the longest ranges for good reason.
The Sako TRG 42A1 is not always in stock, so do't hesitate if you see this bolt action rifle ready to ship.
---
9. Weatherby Mark V Accumark
Price: $2,299.99
Barrel Length:. 26"
Weight: 10lb
Capacity: 5+1
Hunters have relied on Weatherby rifles in larger calibers since forever. This bolt action rifle gets a fiberglass composite stock, a medium contour barrel and a sub-MOA rifle.
This bolt action rifle looks like a traditional hunting rifle, but you can see from the shape of the stock that Wetherbyu has incorporated precision rifle thinking here. The end result is a 338 Lapua rifle that is devastatingly accurate
Of course it is an expensive bolt action rifle, but it's far from basic and you do tend to get what you pay for in this world.
---
10. Masterpiece Arms 338BA
Price: $2,299.99
Barrel Length:. 26"
Weight: 10lb
Capacity: 5+1
Masterpiece Arms is fast emerging as one of the best manufacturers of heavy artillery like 338 Lapua Magnum rifles.
The Masterpiece Arms 338 BA is a simple bolt action rifle with an outsized reputation. You can also get smaller calibers from Masterpiece Arms and you're pretty much sure to love your new rifle.
For the full line of Masterpiece Arms bolt action rifles, pretty much all of them with sub MOA accuracy, check here.
---
11. Noreen Firearms Bad News 338 Lapua Magnum
Price: $6,120.99
Caliber: 338 Lapua Magnum
Barrel: 26 inch
Total: 44.5 inch
Weight: 13lb
Capacity: 10
The Noreen Firearms Bad News is a 338 Lapua mag semi-automatic rifle. Let that sink in for a moment, then place your order…
Now fans of the brand will have seen this coming. We have semi-auto 30-06 Springfield rifles in our best sniper rifle categories and, until recently, Noreen Firearms made some of the best 50 BMG rifles too.
Watch a trained professional do a 338 Lapua mag dump here and see if these Noreen Firearms Bad News semi-autos are the kind of Lapua rifles you just have to own.
I mean it's a massive caliber semi-auto rifle. So it's sexy for that reason alone.
---
Where to buy Rifle 338 Lapua Ammo Deals
Now you have your rifle, 338 Lapua ammo is next. This is specialist gear and rifle 338 Lapua ammunition is thin on the ground. So where do you get rifle 338 Lapua ammo?
We got one place for rifle 338 Lapua Magnum target 338 Lapua ammo. That's it. Almost $9 a round and one place selling it…
Gun Parts, Accessories and other things
Yeah we can sell you gun parts, accessories, optics, knives, tools, a gun supplies, gun cleaning shiz. Eveyrthing really, sometimes with free shipping. Just remember guns and NFA gear need to go to a licensed FFL dealer. So find an FFL dealer locator first.
Air guns generally dont have to go to an FFL. Because they are air guns.
All rights reserved. For the full privacy policy terms & Conditions, please contact us, enter your email address etc. Leave a reply, enter your email address, all that stuff. And maybe we can be friends.