Update; We thought this wouldn't need saying, but we got a complaint. Sooooooo, just to be clear, we think murder is bad. If you're thinking of murdering someone, the USA Gun Shop says no, especially not with a new sniper rifle.
Update 2: Covid-19 has wrecked stock levels all round the United States. So if you're looking for a great rifle and the live link is out of stock, you might want to check these live links for what's in stock at our favorite dealers:
---
So What is the Best?
We have all thought about it, theoretically of course. What would be the best sniper rifle to use if we decided to be professional killers, assassins, guns for hire?
---
There's a lot of choice out there and so we started to really think about it. It would have to be commercially available. Forget assassin's using a signature custom gun. If the police ever ran ballistics on that firearm, the hitman wouldn't see the light of day again.
---
Smart Snipers Use Disposable Rifles
---
So the professional sniper would use a disposable gun that's on the open market. The best sniper rifle to buy and use would blend in, use standard ammunition, and still be able to take out a hostile target.
---
Even if you don't move in those circles, there is a reason to have the best sniper rifle. If SHTF or society melts in some unexpected way, range can be a powerful ally. If you can hit them before they can really see you, then this is the way to protect yourself in the Apocalypse.
---
Here is a quick guide to the best rifles on sale in 2021?
---
Oh and whatever rifle you buy, make sure you have a high quality long-range rifle scope too. Without that, you won't hit a barn door at 500 yards…
---
---
1 Tikka T3x Tac A1
---
Price: $1,998.99
Caliber: 6.5 Creedmoor
Barrel: 24 inch
Total: 44.5 inch
Weight: 10.3lb
The Tikka T3x Tac A1 is here because the crowd has spoken. The ardent long-distance shooters here insist that this Finnish work of engineering excellence is the best rifle here until you start spending serious money.
---
Don't say we don't listen…
---
The T3x works if you're going to start targeting heads of state, crime lords, elk or even pieces of paper that are really far away. It's a pure sniper rifle.
---
Proper Rifle, Not a Lightweight
---
Now this is no lightweight hunting rifle, but the company has lightweight bolt rifles for you further down this very list. No, this is the military specialist's gun for the armed forces. This is the gun that waits in the shadows for that one moment.
---
A 24 inch barrel and aluminum chassis give a respectable 10.3lb weight. That's a portable rifle, just, and the results at the range speak for themselves. This is the best long-range rifle that a lot of people own and makes others just look like heavy weapons.
---
Get one, and see what everybody is on my case for.
---
You can pick up a great Tikka bolt action sniper rifle for much less that could be much more suitable as a hunting rifle. Check out the options that include a traditional wood stock here:
This rifle, though, with a collection of gun parts & accessories, might be all the gun you need. It's a single shot sniper in the right hands, too.
---
2. Sig Sauer Cross
---
Price: $1,522.99
Caliber: 308 Winchester
Barrel Length: 18 inch
Total Length: 37.75 inch
Capacity: 5+1 rounds
Weight: 6.8lb
---
---
Sig Sauer decided to create a crossover rifle that brought all of the joys of a sniper rifle to the hunting and casual plinking crowd.
---
A hunting rifle with added precision, with portability and a short enough barrel to sling on your shoulder? That's a mighty compelling recipe for the average sniper. The Sig Sauer might not be the main weapon, but definitely it could work if you have to cover ground as well.
---
Sig Sauer produces all kinds of military hardware and this is a welcome addition to these ranks. In time, we think it could pose a threat to Tikka's dominance.
---
Now Sig Sauer claims this is the lightest precision rifle in its class. Sliding in beneath 7lb is a masterstroke and it means that we can now take a sniper rifle on a hike. Serious hunters and hitmen alike have already submitted their orders.
---
The early reviews are encouraging and, well, it's a Sig Sauer rifle. You don't tend to find a bad rifle from the German/Swiss giant and Sig Sauer has put a big marketing push behind the Sig Sauer Cross.
---
---
3. Savage Axis
Price: $309.99
Barrel: 22 inch
Weight: 6.5lb
Capacity: 4+1
---
Some jobs require a single use bolt action rifle that you can dispose of afterwards. Possibly. I mean I hear…
---
So you want a solid option, which is reliable, accurate and cheap helps. The Savage Axis is legendary among the hunting community because its basic, affordable and doesn't really do anything wrong.
---
---
Basic Engineering, Done Well
---
There isn't that much to discuss with the Savage Axis, or the slightly improved Savage Axis II. There's a black synthetic stock with molded grips. There's an AccuTrigger with an integral Glock-style trigger safety and the button-rifled barrel has an iconic reputation for accuracy.
---
It's a great hunting rifle and a starter hitman's option. The Savage Axis is also a cheap gun you can always find for a hunting trip and that synthetic stock is designed to stand the test of time. Would you call it a bolt action sniper rifle? I mean it's optimistic, but if you're good enough then so is the gun.
---
Savage Axis also make solid chassis rifles if you want to go long-range shooting without a second mortgage.
---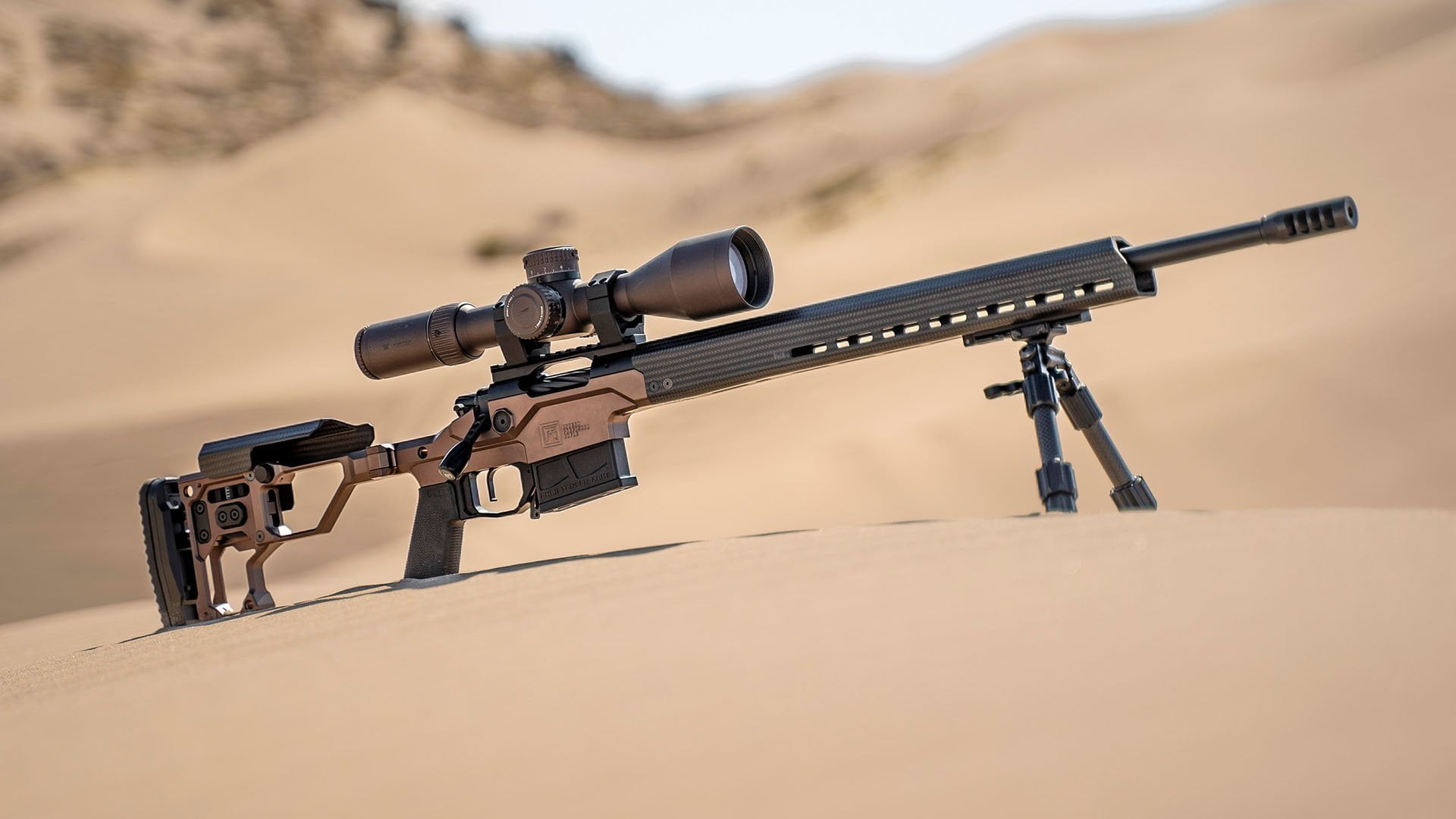 4. Christensen Arms Modern Precision
Price: $2,349.99
Caliber: 300 Norma Magnum
Barrel: 26 inch
Weight: 6.9lb
Capacity: 5+1
---
The Christensen Arms Modern Precision is one of the best sniper rifles out there, and it's light enough to carry out in the field. It's a truly portable sniper, then, and certainly deserves a place here. In truth it should probably be higher up.
---
You get a match grade flat trigger, folding stock, a free floating carbon-fiber handguard and other assorted goodies on this Christensen Arms Modern Precision.
---
We love this brand and this ultra lightweight chassis rifle is a thing of beauty. It embodies the weight saving ethos. The end result is a rifle that can weigh as little as 6.9lb, depending on your barrel length and what you're prepared to give up in terms of range for added portability.
---
Half a pound is a lot in the field and it's hard to say just how impressed we are with the Christensen Arms Modern Precision. It might well end up on the podium before too long, and if you know them then you already know why.
---
We chose the 300 Norma Magnum because, well, it's there. But we don't give the caliber nearly enough love here, and we should change that. So here's to 300 Norma Mangum, and one of the finest sniper rifles on sale today.
---
5. Wilson Combat AR-10 Recon Tactical
---
Price: $2,995.00
Caliber: 6.5 Creedmoor
Barrel Length: 16 inch
Total Length: 33.5-37.75 inch
Capacity: 20+1 rounds
Weight: 7.1lb
---
---
The Wilson Combat AR-10 Recon Tactical 6.5 Creedmoor is built to order, so get ready for a 5-8 week delivery time for this custom rifle. It's worth the wait, and the serious price tag for arguably the most complete Designated Marksman Rifle money can buy..
---
This, right here, is the next gen AR-15 and I am struggling to see a better firearm for an assassin in the field than the Wilson Combat AR-10 Recon Tactical 6.5 Creedmoor.
---
Turn this into a full automatic fire Creedmoor assault rifle and the US military will just send in a blank check. Just imagine a quick guide to the best assault rifle for a moment. It's this gun. That's a next gen Colt M4 and pure modern warfare. Don't deny it…
---
The S&W Performance Center was our winner for a long, long time, but the Wilson Combat AR-10 Tactical does everything that little bit better. It's a lightweight 6.5 Creedmoor and it's compact and portable like the very best AR-15s for sale.
---
It's available in 308 Win too, and that caliber is the star of this video. Otherwise, the gun is the same and you have to admit, you want one…
Creedmoor Punch, AR-15 Weight
---
7.1lb is stunning for a rifle that you would trust to 'do the business' at 800 yards and more. Wilson Combat will sell you a 'Super Sniper' version of this rifle chambered in 224 Valkyrie, which is aimed at the best long distance shooting specialists and, well, snipers.
---
That weighs more than 10lb, though, and this rifle is just the answer to so many more varied questions. This could be the single hunting rifle for pretty much all your needs too. It's the one rifle that will cover you from self-defense at 10 yards through to picking off hogs at 300.
---
Everything is Match Grade on the Wilson Combat
---
The fluted stainless steel barrel is match-grade, the gas system is full length and low profile. There's a threaded muzzle with a Wilson Combat QComp flash hider, a BCM pistol grip that is finished in the Wilson Combat starburst signature stippling and there is a proprietary Tactical Trigger Unit too.
---
You get a next gen patrol rifle, Designated Marksman Rifle, call it what you like.
---
Longer Barrel Lengths Are Available
---
Wilson Combat can sell you the Super Sniper version with a longer barrel, but this AR-10 Tactical just makes sense.
---
Keep this rifle loaded with some seriously unpleasant ammunition and you'd be amazed how effective it is as a home-defense tool. Change the mag and a hunting you will go. That makes this one of the few rifles that can do anything, anywhere, at any range.
---
It's a lightweight semi-auto rifle with match-grade accuracy and the Wilson Combat name.
---
---
6. Remington 700 SPS Stainless
---
Price: $699.97

Effective Range: <1000 Yards.

Barrel Length: 24 inches

Total Length: 46.5 inches

Weight: 6.5lb

Capacity: 3+1
---
---
Chris Kyle and other snipers that sold their stories when they came back home all tend to agree that the .300 Winchester Magnum was the one weapon they could really rely on.
---
These are men that can call upon the finest weapons in the world and the one they have really happy memories of is a farmer's gun. Rifles, shotguns and more all came from Remington. But then these were the days you could buy Opium at the pharmacy, so there's that.
---
It really is an old-school hunting rifle with a modern synthetic stock. Now the M24 sniper system favored by the army is a little more advanced and Kyle used his own modified version of that weapon. So you're not quite buying Chris Kyle's best gun for $550. His looks a little more like this.
---
Purpose Built Remington Defense Custom Rifles
---
---
---
That's the $7,925 Remington Defense XM2010 Concealable bolt action Sniper Rifle, which is rather nice for the armed forces. That's the ultimate, but you might also want to consider this old-school, $2,900 Remington Defense M24 best Sniper rifle, the best on Euro Optic.
---
But the M24 really is a tribute to the classic Remington 700 rifle. So if you are on a budget, the modern rifle is just as good, and possibly better. This basic ass hunting rifle has served America well for decades.
---
You can buy a more advanced version and this one comes with the stainless steel barrel,.
---
Cheap Remington Rifles on the Market? No Problem
---
You can get cheaper ones, too, like the Remington 783 rifle, which costs a little more than $300 for a perfectly functional .300 Wing Mag rifle.
---
It's one of those guns that really doesn't need much adjustment until you get beyond 700 yards. That's when the good get separated from the great, but this is a viable hunting round or people stopper up to 1250 meters if you're good enough.
---
You get a synthetic stock and a rifle that will serve you well in the field. It weighs in at 6.5lb, which is perfectly respectable for a hunting rifle, especially with this kind of barrel.
---
You only get three rounds in the magazine, but then this is a one-shot, one-kill kind of weapon. Like the Creedmoor 6.5, it's a pick your spot gun, rather than the general area, and it will bring out the best in your hunting technique.
---
Hiding in Plain Sight With Popular Rifle
---
A modern hitman would love this gun because it blends in to the crowd. Remington sell countless examples of this centerfire rifle every year. It has been with us since 1962 and the beauty of the Remington 700 is that there is nothing special about it at all.
---
You can walk into any gun store in America and buy one of these in 30 minutes. So if the forensics guys figure out it's a Remington 700, well good luck with that.
---
7. Daniel Defense DD5 V2
Price: $2,599.99
Caliber: 308 Win
Barrel: 16 inch
Total: 33.5-37 inch
Weight: 8.3lb
---
---
A lot of underworld snipers are ex-military, police or shadowy Jason Bourne figures. Look at John Wick as the clear example of what obviously happens for real in the shadows of every major metropolis at the weekend. Or maybe I need less TV…
---
Anyway, a lot of those people train with the .308 Winchester, which also happens to be America's favorite hunting round. The only problem was getting a semi auto AR platform light enough to replace the slower bolt guns.
---
Lightweight AR Style .308 Rifle
---
Now the company has fixed that issue with the 8.3lb Daniel Defense DD5 V2 .308 Win. In the process, it has created a semi-auto rifle that can pop off shots at hogs, or enemy forces. It's a stunning DMR in a standard patrol rifle size footprint with just a slight weight penalty.
---
That's pretty badass, to be honest with you. An assault rifle would be epic and a real step up from the AR-15 when it comes to modern warfare. As a Designated Marksman Rifle, it's kind of hard to fault.
---
A mid-length gas system, an AR-15 trick, helped bring the weight down on this AR-10 platform. The internals are the best of the best and include a Geissele two-stage trigger, which features on the Pro upgrade in the Daniel Defense AR-15 line.
---
This company has the Midas touch right now and everything it touches seems to turn to gold. We can see that happening here with this brilliant all-round 308 Winchester AR rifle.
---
---
8. The Fix by Q
---
Price: $3,434.99
Caliber: 6.5 Creedmoor
Barrel: 24 inch
Weight: 6.5lb
---
---
We were excited by the Fix by Q when we saw the press releases, years ago. And this sniper rifle would be much higher up on this list if there were more actual rifles out there in the real world.
---
This is an awesome gun. It's a one-piece receiver, no chassis bolt rifle and that is clever. It's a lightweight rifle, compact and could easily conceal. These are all great qualities in a sniper rifle.
---
The Fix by Q is a modern rework of the classic bolt action rifle design. It took a few false dawns to get here, but it's finally here. And we found one in the wild.
---
---
9. Brugger & Thomet B&T APR338
---
Price: $10,030.99
Caliber: 338 Lapua Magnum
Barrel Length:. 27"
Total Length: 40-52"
Weight: 17.4lb
Capacity: 10+1
---
This is another Fully Modular Rifle Chassis that you can tailor to your specific needs. You can chamber the rifle in .338 Lapua Magnum, and this is a gun that can go as far as you can.
---
It's aimed at Swiss military, police and pro users. The armed forces love it.
---
Does it do anything better than the FN? or the Sako? Not especially. But rifles on the market like this come down to feel. If you like the way the B&T shoots, then you'll think it's a better rifle. It should be as good, B&T make some amazing self-defense weapons.
---
The match-grade barrel is beyond reproach, all 27 inches of it. The three-chamber muzzle brake can also be removed and replaced with a suppressor for the ultimate in stealth work.
---
It also comes on an absolute beast of a chassis and looks like it might just be an anti-tank gun. Maybe that counts for something, too.
---
Fans of the brand know exactly what you'll get. It's precision engineering all the way, exactly as you'd expect from the land of mechanical watchmakers. This is easily a match for anything on this list in terms of manufacturing tolerances and pure design talent.
---
And a European hitman operating on these shores might enjoy using foreign hardware for the perfect long-range killshot. So could target shooters, of course…
---
10. Springfield Armory 2020 Waypoint
Price: $2,221.99
Caliber: 308 Winchester
Barrel: 20 inch
Weight: 6.9lb
---
This is a custom rifle from the master gunsmiths that have a long history of producing the finest competition 1911 pistols.
---
Springfield Armory also makes the M1 Garand based M1A, which would be another fun and slightly oddball chioice for a sniper rifle. But this new arrival is a beast of a sniper system.
---
Now Springfield Armory claims you get the same premium grade materials you'll find on rifles costing thousands more. So it's fair to say that this is taking aim at Sako rifles, the DD Delta 5 and more.
---
Can Springfield Armory break into this elite club? Yes. Like this? Yes, absolutely.
---
You get a CF stock and optional CF barrel with a guaranteed sub 0.75 MOA accuracy. The stock is hand laid and pillar bedded to help achieve that unnerving accuracy. The Springfield Armory features a frictionless TriggerTech system with a simple safety and a free-floating roller to help you make the most of the tech with a repeatable and predictable trigger pull.
---
---
11. H&K MR762A1 LRP package
Price: $7,364.99
Barrel: 16.5 inch
Total: 36.5-40.5 inch
Weight: 10.42lb
Capacity: 20+1
---
This Heckler & Koch is a military sniper legend and a competition shooter's favorite that doesn't make all that much sense if you look at it with a cynical eye. But the armed forces rate it, so maybe we should listen.
---
This is a heavy gun with a 16 inch barrel, basic 308 ammo and not a whole lot to recommend it from afar. And it is a modified patrol rifle with a serious accessories and optics package. But to use one is to love it.
---
The Heckler & Koch is famous for its reliability thanks to the patented gas piston and pusher rod system and this is the second gen of a rifle. So enough people love it, but you can end up scratching your head at the weight and cost for something that is not the best long distance rifle by definition.
---
If you're one of those folks, you're probably not going to be a customer. And you don't care about the cost and the weight and you absolutely want this rifle, then you'll never give a damn about those things.
---
You are the customer, and you know you're getting one of the finest battle rifles in the world from Heckler & Koch. If you're looking for a compact sniper rifle, this Heckler & Koch could be the one.
---
12. Browning X-Bolt Hells Canyon SPEED
Price: $1,079.99
Caliber: 308 Winchester Magnum
Barrel Length: 22 inch
Total Length: 46.75 inch
Total Weight: 6.3lb
Capacity: 3+1
---
---
The Browning X-Bolt is a long rifle legend for good reason. But even with the icon, there is room for improvement. You can go further with the X-Bolt Pro, by the way, and you might want to do that.
---
What we have here is a great combination of portability, accuracy, reliability and price though. The X-Bolt Speed feels like the sweet spot for most serious hunters. And bolt-action sniper rifles.
---
The Browning X-BOLT Feather Trigger has zero take-up and creep just isn't an issue. So you can take aim at the furthest reaches of the 300 Win's range and turn into a one shot, one kill kinda person with the target, elk or hog.
---
X-Bolt is a Hunting Household Name
---
Browning's X-Bolt rifle has been a stalwart of the hunting scene for a while and the name comes from the X-Lock Scope Mounting System.
---
There are all kinds of variations,and we like the simple rifles too. But this rifle really doesn't cost much more for the heavy sporter contoured barrel that provides pinpoint accuracy.
---
Read the reviews for yourself on Sportsman's Warehouse, with one happy user review claiming 1inch grouping at 200 yards in less than 20 shots. That could be you….
---
The composite stock comes with an inflex 1 recoil pad and checkered grips. It's a nice looking rifle that could become your first port of call for hunting if you prefer a simple gun.
---
That colorscheme is called Arid Urban Camouflage, if you're wondering…
---
X-Bolt is the Professional Hunter's Rifle
---
Plenty of the world's best have called upon a Browning X-Bolt and the general feeling is the barrels go well beyond match-grade. This is custom gun levels of accuracy in an off-the-shelf package. And it comes in a number of calibers, aside from this flavor.
---
There's no real revolution here, it's just an exceptional rifle that is widely considered one of the best hunting rifles in the world. And what works for the hunter, generally works for a top caliber sniper.
---
It's all kinda hunting, at the end of the day.
---
13. Smith & Wesson M&P10 6.5 Creedmoor
---
Price: $1,839.99

Effective Range: >1000 meters

Barrel Length: 20 inches

Total Length: 39.5 inches

Weight: 9.05lb

Capacity: 10+1
---
---
6.5 Creedmoor was just a target round that supposedly wasn't good enough for hunting. Now? It takes Elk at 1000 yards with one shot. It's cheap, the bullets have become an artform, there's lots of choice and it's so accurate that you could aim for an eye.
---
The narrow, light, high velocity cartridge resists drop-off that is part and parcel of a 308 round. It stays straight and true to 1000 yards and beyond, with specialist hunting rounds giving a devastating payload.
---
The M&P10 is more expensive than the average Creedmoor rifle, but it comes with the semi-automatic rifle AR set-up. That means a proper hitman can do a double tap to the chest from up to 1000 yards. If that takes down an Elk, it will take down a human being.
---
Quality Hitman's Gun, and a Great Rifle
There are cheaper 6.5 Creedmoor rifles, but a professional hitman that takes pride in his work would always spend that little bit more on the equipment. This modified AR-10 platform goes through the Smith & Wesson Performance Center for fine-tuning and it's an almighty hunter, target shooter and semi-automatic long distance legend.
---
Versatile Guns Are Great Guns
---
This might just be the most versatile gun you could even own and you'll find it becomes your default hunting gun. If you don't object to 9lb on your shoulder and don't want to spend Wilson Combat money…
---
You can harvest everything short of the biggest North American game, grizzlies and the like. It will chop everything else down where it stands. The precision of the round encourages you to choose the wound channel you're aiming at, rather than the general area.
---
You're threading a needle and choosing your moment with this round to get the perfect shot to the heart. This precision rifle is a hitman's gun, then, to its core.
---
The 6.5 Creedmoor has found favor with SOCOM snipers, which found that it increased their odds of a clean hit at 1000 yards by 100%, increased their effective range by 50% and reduces wind drift by a third.
---
Military Slowly Adopting 6.5 Creedmoor Ammo
---
The American military is surprisingly slow to adopt major changes like this, but the elite fighting forces have already got Creedmoor rifles at their disposal. The usual suspects, Knights Armament SR-25 and the FN Mk20 Sniper Support Rifle, will soon be available in 6.5 Creedmoor.
---
Check our list of the best Creedmoor rifles for sale in 2021 and you'll see more of those DMR rifles. The Smith & Wesson is actually a lightweight rifle in those terms, as 9.5lb is pretty normal for a DMR.
---
Are they any better than the M&P? I really can't see how they can be for the average hunter. That highlights just what a bargain this rifle really is. Is the best value long distance rifle in the world? It might just be…
---
For more options, the best Creedmoor 6.5 hunting rifles for sale in 2021, check out this list.
---
---
Where to buy 6.5 Creedmoor rifles online
---
6.5 Creedmoor has gone mainstream in recent times, but you still have to know where to look to get the best deals and some of the military hardware too.
---
Here our top tips of where to buy Creedmoor rifles online and get the best price.
---
---
14. Patriot Ordnance Factory Renegade Plus
---
Price: $1,879.99
Caliber: AAC 300 Blackout
Barrel Length: 16.5 inch
Total Length: 33-36 inch
Weight: 6.4lb
---
---
Sometimes you need a different kind of rifle, Mainly when you're not a sniper, you're just hunting and stuff. But even pro hitmen should probably take a look at a basic AR set-up like this in AAC Blackout.
---
The relatively new AAC 300 Blackout round has a lot to give the professional contract killer, including the potential to shoot sub-sonic ammo, suppressed, so it's whisper quiet and deadly at 200-250 yards.
---
Alternatively, with the big boy pants ammunition, this is an AR you could rely on at 450 yards. That's pretty cool and the rifle was essentially engineered for the Navy SEALs as a next level AR-15.
---
Adequate Sniper and Pro Grade Hog Hunter
---
The end result is a short distance sniper that is light enough to sling on your shoulder. It is also a pitbull in a gunfight and could quite possibly be your favorite hunting gun before too long. It gives you options and the range is a damn useful one.
---
It's a cheap gun too, in this company, and just as effective in 70% of situations and much more flexible.
---
---
15. Thompson Center Arms Venture II
---
Price: $545.99
Caliber: 243 Winchester
Barrel: 22 inch
Total Length: 41.77 inch
Weight: 9.5lb
Capacity: 3
---
---
Thompson Center Arms produce some truly great rifles, but this all-rounder is just a beautifully simple piece of engineering at the right price.
---
Accuracy is a big deal when you're working at range, especially if you don't get a second chance. That can be true with wild game, just as easily as tyrannical foreign despots. In either case, the Thompson Center Arms is a solid choice.
---
It's a simple bolt action rifle, in its purest form. The long 5R rifled barrel is the key to its tack driver reputation, but small touches all over the rifle contribute to the sub-MOA guarantee.
---
If you haven't tried a Thompson Center Arms rifle, and that can happen, you should. Check out the Thompson Center Arms chassis rifle, and the company's single shot offerings.
---
---
16. Rise Armament 1121XR Precision
---
Price: $2,379
Barrel: 22 inch
Total Length: 41.77 inch
Weight: 9.7lb
Capacity: 10+1
---
---
Rise Armament created a heavy caliber gas rifle for big game hunters that loved Creedmoor. So this was always going to be on the heavy side, but it's also an incredible rifle for those that can sit and wait.
---
Any sniper rifle around 10lb or beyond is really best on a rooftop, or in the back of a station wagon if you're that kinda person. The Rise Armament rifle was designed for pure long-distance knockdown power and aims to squeeze the last fps out of the 6.5 Creedmoor round.
---
That makes this a seriously great rifle, and one that every hitman should at least consider. Is it that much better than the Smith & Wesson? It depends what you're doing. For general hunting, absolutely not. You don't need this for a Whitetail and it isn't the lightest rifle.
---
If you're going after Elk, a mafia boss or a bullseye in a sport shooting contest, then the Rise Armament might be the way to go. It's a clearly a precision target rifle, but some of the specialist operators out there will love the adjustable cheekrest and triple port compensator. As well as the finishing touches on this bolt action rifle.
---
The flat faced competition spec trigger, meanwhile, will remind them that they're in the private sector and making much more money with sniper rifles these days. That folding stock does help with the long trek before the final act too.
---
17. Accuracy International AT-308
---
Price: $4,746.99

Caliber: .308

Barrel: 24 inches

Total Length: 44 inches

Weight: 12.8lb

Capacity: 10+1
---
---
This is the shorter, tactical sniper rifle, the best that AI has to offer and we get the feeling it's the one a modern hitman might prefer. PC gaming enthusiasts know and love them as well.
---
It's a smaller caliber, but Accuracy International can offer you a .338 Lapua or even a 50 BMG anti personnel gun if that's what you really want. This compact sniper package is easier to conceal, it's set up as a tactical weapon and it comes with 10+1 rounds.
---
So if you really need to then you can light up the sky with this smooth, fast bolt action sniper rifle. Get some night vision and you're basically a Marine. Minus all the training…
---
If you want the same rifle as the SOCOM boys and, more or less, AI will sell you one, then prepare to spend almost $20K on a .308 Winchester Magnum rifle. Well, it's also a 338 Lapua and 300 Norma Mag rifle too and the multi-caliber aspect adds to the cost.
---
The Accuracy International ASR is a cool rifle, but you've really got to love it to drop that much money on these bolt action sniper rifles with a folding stock and a skeletal look.
---
A Unique Hunting Rifle, Not Just a Sniper Gun
---
It's also good for multiple shots if you're hog hunting. At up to 400 meters, this gun will be all you need for most standard hunting trips, up to and including white tail. It could also be a pretty solid hitman weapon up to 500 meters and is small enough to sit in the tailgate of a car.
---
It's really a great hunting weapon when you want to keep things up close and personal, in which case the limited range of the .308 really doesn't matter. At less than 500 meters, you really don't need to correct for the heavyweight ammo.
---
If you need more range, that's what 6.5 Creedmoor and 7mm Rem Mag is for.
---
18. Christensen Arms Summit TI
---
Price: $4,999.99
Caliber: 7mm Rem Mag
Barrel: 26 inch
Total Length: 48 inch
Capacity: 3+1 rounds
Weight: 6.5lb
---
---
The Christensen Arms Summit TI shows just what you can do with a traditional design and modern material tech like carbon fiber. Like most of the company's rifles, it is absolutely superb.
---
A 6.5lb rifle with a 26 inch barrel is just good. Christensen Arms gets there with a carbon wrapped steel barrel. The action is machined from titanium. The Carbon Fiber stock is aerospace grade and pretty much every part of a relatively old school rifle has been brought screaming up to date.
---
The end result is devastating accuracy and repeatability from a lightweight rifle you could shoulder all day.
---
It's a serious hunting rifle, a great target shooter and a top end hitman could easily opt for this carbon fiber accented gun. Obviously it's a bolt action sniper rifle. But it's so much more as well.
---
The company has a raft of chassis rifles, as well as classic hunting rifles and some pretty sexy 1911 pistols and gun parts & accessories. You can get a lightweight wood stock, for instance. Check out more rifles here.
---
19. Nemo Arms Watchman
---
Price: $5,890
Caliber: .300 Winchester Magnum
Barrel: 24 inch
Total Length: 45.5 inch
Weight: 10.2
Capacity: 14+1
---
---
You can really outgun the US Marine Corps. It's kind of weird you can do that, but the simple fact is that semi auto custom rifles are for sale in every caliber in 2021.
---
You can simply buy a gun online and get a great deal on a firearm that the world's greatest fighting forces would kill to own. This is a Designated Marksman Rifle, as it has the semi-auto rifle capability and could be insanely useful in a military firefight.
---
This is a high-end rifle aimed at long distance shooters that like the military vibe. And the attention to detail is just insane. First it's a semi-auto 300 Winchester Magnum, which is a big deal in itself.
---
Carbon Fiber Barrel is Serious Shiz
---
Next it has a Proof Research carbon fiber barrel, the receivers are machined from billet and that's just the start of a spec sheet that could send your jaw South.
---
There's a patented recoil reduction system in there, the trigger is a Geissele Super Semi Automatic Enhanced two-stage trigger and the stock is a simple Magpul PRS.
---
It might be priced higher than the sum of its parts, but then the best always does cost money and this might just be the best .300 Win Mag semi-automatic sniper rifle you will find out there today.
---
A Ferrari, One of the Best Long Rifle Options
---
This is the Rolls-Royce and Ferrari of the .300 Winchester Magnum world. It's the sum of the best gun parts & accessories, and more.
---
These firearms are simply too expensive for a whole fighting force and the math dictates that a rich hobbyist can have a better rifle than the world's best snipers in their gun safes. What they do with it is a different story.
---
---
It's full AR functionality, so this is a semi-automatic sniper rifle. That means it can provide the double tap at distances of up to 1000 yards if you have the best long distance rifle scope on board.
---
20. Sako TRG
---
Price: $4,378
Caliber: .300 Winchester Magnum

Barrel: 27 inches

Total Length: 47 inches

Weight: 11.75lb

Capacity: 7+1
---
---
There really isn't much debate among target shooters. The Sako TRG is one of the best rifles in the world. It costs a lot, but this is a serious competition shooter's gun.
---
Now you might want the chassis Sako TRG-M10. But that comes at a savage price, as in more than $10,000. So if you really want a Sako, but money is even a thing in your life, you might have to settle for the TRG-42.
---
This is a gun that can ring steel with the very best. Competition shooters know full well that this is $10,000+ worth of gun if you ordered it as a custom set-up, and it's just as good.
---
LEO Snipers and Military Snipers Use Sako Rifles
---
It's also seriously popular with Law Enforcement and military sniper units. The TRG-42, often with the folding AR-style stock, is carried by military outfits from Armenia to Senegal. Now you can buy the Sako TRG 22A1, or Sako TRG 42A1, depending on the caliber.
---
Sako bills as a complete competition rifle and special operations bolt action sniper rifle. It looks reasonable and you can buy yours here…
---
If you need to shoot someone from a really long way away, this could work. You could almost be your own alibi if you fire out your office window. You were at work the whole time…
---
I can't see a professional hitman using a Sako, though. Special forces do have them and the current record for a .338 Lapua killshot is 2,475m. It takes serious correction for drop off, though, and the bullet hangs in the air. So, a lot can go wrong and a hitman might not get a second chance.
---
So they might use one at 1000 yards, but not two miles unless they really had to. Then the competitive advantage over, say, a 7mm, disappears. A professional hitman needs to think about this stuff. That makes this 300 Winchester Magnum a solid option and an alternative to the near-ubiquitous 308 Winchester Magnum.
---
---
---
21. Ruger AR-556 MPR 450 Bushmaster
---
Price: $659.97

Effective Range: <300m

Barrel: 18.6 inches

Total Length: 35.6-38.9 inches

Weight: 7.4lb

Capacity: 5+1
---
---
Not every hit is the same and sometimes you know you're going to be 250 meters or less from your intended target. You might only get one clean shot, so what do you do?
---
Well one option is to use a round so big that all it takes is a hit in the right area and that's it, game over. A round that can drop an elephant would be a good start.
---
450 Bushmaster was designed to drop all African game at 250 meters or less, so yeah that should work. If you can take out an elephant, then a portly politician or Mafia don should just explode on impact.
---
Bring Your Big Game
---
There is nothing subtle about the 450 Bushmaster. It's a sledgehammer to crack a nut. It's overkill for this particular job, then, but it is guaranteed. Novice hitmen might want to go for the bigger impact, especially in an urban environment.
---
This is a cheap hunting rifle, when you consider the power and gun parts are freely available. It's certainly one you should bear in mind in, umm, bear country. It's also a super powerful semi auto that would be a home intruder's worst nightmare. And maybe your wall's…
---
22. Barrett M107

A1
Price: $11,914

Caliber: 50 BMG

Barrel:. 29"

Total Length: 57"

Weight: 32.7lb
---
You have got to be a special kind of assassin to want a 50 BMG military anti-materials gun. But if you want to take a helicopter out the sky or blow a car off a mountain top, then the Barrett M107 is the gun you need.
---
Well, that and some incendiary rounds. Get those and you can basically blow up a small building, or a car, and you can take out a target through a wall. Score a direct hit with one of these and incendiaries, and you could turn an Elk into instant pate, but you'd be sweeping up pieces for days.
---
Even the standard rounds are designed for destroying, rather than hunting. Some Wildlife and Game departments use them for humane hunting, because this gun snuffs out anything up to and including the biggest bears like a light. If an animal needs to be culled, it's about as clean a way to do it as we have right now. The United States military loves them, too.
---
Ultimate 50 Cal Sniper rifle
---
The Barrett Firearms bolt action sniper rifle is a seriously popular piece of kit with military snipers, because it's one of the few guns that can strike like a laser from two miles out. With the right scope, spotter and even foot soldiers laying down traces, this gun can totally wipe out a small airfield or bunker on its own. It is a star out in the Middle East with American forces, and has seen active service across the world.
---
Pretty much every special forces team has at least one to call upon, because this gun can inflict ridiculous levels of damage considering its portability. It isn't light, but it is mobile and the Barrett M107 gives the same firepower you used to get from vehicle-mounted weapons only.
---
As a SHTF gun, it's a luxury. The rounds cost $3.50 for the basic ammo and $7 a round for the good stuff. If you can find it among the odd gun parts bins. You can get cheaper rounds, but they're often reloads and I'm not sure I would trust someone else's math with this kind of power.
---
---
23. Ruger Precision Rifles
Price: $1,2

11.99

Caliber: 6mm Creedmoor

Barrel:. 24

Total Length: 46.75"

Weight: 10.7lb
---
Ruger Precision Rifles are the starter pack for long-range shooting. You can get these bolt action sniper rifles in more or less every flavor, too, from 22LR rimfire rifles right through to the serious calibers.
---
We know 6mm Creedmoor doesn't get as much love as 6.5 round here and we all know that it's the red-headed stepchild of the Creedmoor family. But it's still a good round on its own merit and 6mm Creedmoor was one of the last rounds to run dry during the great ammo crisis. Maybe.
---
This Precision rifles' strengths, meanwhile, are the low price tag, and the opportunity to learn the complexities of Precision rifles without spending a fortune. Gun parts are everywhere for these bolt action rifles too.
---
Ruger rifles are mainstays on all of our lists thanks to solid engineering at the right price. There's always a sexier option, but Ruger rifles rarely disappoint.
---
---
24. Masterpiece Arms PMR
---
Price: $2,250+

Caliber: 308 Win

chester Magnum

Barrel:. 26"

Total Length: 41.7"

Weight: 11.5lb
---
Masterpiece Arms has made a big splash with its line of chassis rifles. The Masterpiece Arms PMR would be higher on the list, but availability is an issue.
---
Of course Masterpiece Arms can offer you a selection of upgrades and gun parts for your existing rifle. But these ground-up builds have certainly won over the critics. Check the reviews and you'll see that Masterpiece Arms, based in Georgia, has dedicated itself to producing the best possible gun parts that make the best possible guns.
---
It's not rocket science really. Although ballistic technology does feature pretty prominently, so I don't know. Maybe it is kind of rocket science.
---
---
25. Henry 45-70 Lever Action Rifle
---
Price: $859.99

Caliber: 45-70 Rifle

Barrel:. 22"

Weight: 8.1lb
---
It would take a special kind of sadist to carry out professional hits with a lever action rifle. Or a steampunk assassin from a comic book. Maybe just a crazy person…
---
Whatever, Google told us we need a lever action rifle in this sniper rifle collection or we wouldn't be number one. That's why it's here. That's why you're staring at a Henry Lever Action rifle.
---
Well, that and the caliber.
---
45-70 Government is better known for its association with the BFR revolvers these days. Here, though, it's a devastating rifle round that can drop big game and big people alike with a Wild West lever action.
---
So it's a lever action rifle with a USP and that's good enough for a place here. Well, that and Google told us we needed a lever action rifle. Mainly that…
---
26. Orsis T-5000
---
Price: $8000

Caliber: 308 Win

Barrel:. 24.5"

Total Length: 41.7"

Weight: 13.9lb
---
The only reason this Russian sniper rifle isn't way higher on the list is that you just can't buy it in the United States. The Pentagon labeled this gun, especially in .338 Lapua form, a threat to national security. Ummm, yeah…
---
This is the bolt action sniper rifle that watches over Vladimir Putin, though, and the Russian special forces take this bolt action sniper rifle wherever they go. Normally with red dot sights or short range scope attached, or night vision of course. It's chambered in 308 Win or 338 Lapua, and there's a longer version for absolute pinpoint accuracy.
---
It's on sale in Germany, but will take time and effort to get on to these shores. With other, cheaper options more readily available, you've really got to want one of these. Do you think it's the best rifle in the world? Why?
---
27. Barrett MRAD
Price: $4,069

Effective Range: >600m

Caliber: .300 Win Mag

/Multi Caliber

Barrel: 26 inches

Total Length: 46.75 inches

Weight: 9.2lb

Capacity: 4+1
---
---
This is the MRAD system, a precision rifle that will really separate you from your money, but could give you caliber options that will blow your mind. The barrels switch out with a Torx wrench and its designed to dance through the calibers with minimal tools and gunsmithing.
---
The MRAD is one of the new breed of totally modular bolt action sniper rifles that you can run as a .338 Lapua, 7mm Remington, 300 Win Mag and .308 Winchester. You can swap the barrel in seconds and this one system could replace pretty much all of your rifles in one fell swoop. It's a big hit in modern warfare for a reason.
---
---
Better Multi-Caliber Options?
---
It isn't quite as perfect as a Sako, or the FN Ballista, at 338 Lapua, but it's the versatility that makes the Barrett such a solid option. That and the minimalist military styling. There are rails everywhere, and an infinitely adjustable folding butt stock. But that's it.
---
This is the simpler version, which is called a lightweight rifle without a hint of irony, despite tipping the scales at more than 9.2lb.
---
This is a Mil-spec firearm built for the purpose, form follows function and this repeater is a simply stunning piece of engineering. It's suppressor ready, it's a military tool and it could be an awesome hunting gun. But the main rason it exists is to be a world leader in multi caliber bolt action sniper rifles. It seems to have done that.
---
One Shot One Kill Semi Auto Rifle
---
This is a one-shot type gun, even though you can slot in an 8+1 mag and lay down suppressing fire if you're good with the bolt. But at anything less than 600 yards, .308 Win Mag will do you just fine
---
---
As a hitman's weapon, this rifle is a monster that only needs one clean hit to get the job done. As a SHTF gun, this could prove a real valuable addition to your arsenal.
---
---
28. Noreen BN36X3 Long Range Assassin
---
Price: $2,871.00
Caliber: 7mm Remington
Barrel: 22 inch
Total Length:
Weight: 9lb
Capacity: 10+1 Rounds
---
---
With that name, and the name of this post, we couldn't leave the large caliber Noreen Firearms rifles out of this one.
---
It's a reimagined standard issue M1 Garand, according to Noreen anyway. For most of us, it's a freaking semi-auto rifle chambered in 7mm Remington, and that is awesome. Is this modern warfare? It's a precision rifle with follow up capability, so it could be…
---
Most of the 7mm Rem Mag rifles are a bolt-action rifle and there are long-distance shooters that sneer at more convenient options. And for them, where mm dictates their success or failure, OK, cool.
---
For those of us who don't spend our weekend staring at distant paper sheets through binoculars, this is an insane hunting rifle that could take sniper shots at 1500 yards. That is badass, Call of Duty-style badass, and you know it is. It's one of the new breed of sniper rifles.
---
A Nuclear Deer and Hog Hunter
---
Up close it's a brilliantly flexible and adaptable hunting rifle that would be an absolute beast on a hog hunt. It's a humane hunting rifle, it will dispatch pretty much any sized game in America at a sane distance and it's a great rifle to have in your armory.
---
7mm Remington never quite got the fanfare of 6.5 Creedmoor, but it will cover a bigger distance and deliver an absolute sledgehammer of a blow. A 1500 yard double tap would be quite something, and technically it's possible with this rifle for sale.
---
29. FN Ballista FDE Rifle .338 Lapua
---
Price: $6,999.99
Caliber: .338 Lapua

Effective Range: >3000m

Barrel Length: 26"

Total Length: 50.75"

Weight: 15.1lb

Capacity: 8+1
---
---
This is a long-distance target shooting rifle, as well as an out and out sniper that sees active duty every day of the week in more capable hands.
---
The similarities between target shooting and precision military killshots are obvious and the .338 Lapua is absolutely a military sniper's close friend.
---
The round was designed by and for military snipers in the late 1980s, so this really is the civilian version of military hardware. Do you need to hit deer, Elk and people at 2000 yards plus? Well that's a question only you can answer, but if you have been bitten by the long-range bug then this is all the rifle you will ever need.
---
FN has a fearsome reputation when it comes to precision rifles. You can find its wares on Call of Duty, and the FN-SCAR and the Ballista FDE both see active duty with military units, law enforcement officers, armed forces and specialist snipers each and every week. This is the best of the best.
---
---
Compound Defense Gun
---
As a SHTF gun, this bolt action sniper rifle would be a powerful ally. I mean it's not the best assault rifle, but you don't have to get that close. You could defend high ground at well over a mile and that would make anybody think twice.
---
The Lapua round is devastating. It's absolutely a one-shot, one-kill kind of gun on anything other than, perhaps including, big grizzlies.
---
Now the average sniper can't afford one of these unless it comes loaded in the company truck. Even a professional hitman couldn't afford to buy a new one for every job, unless they were John Wick.
---
So this would be a signature gun, used repeatedly. Honestly that guy sounds more like a serial killer than a professional assassin, but he would have a wicked bad gun.
---
Change Caliber in Minutes
---
The FN Ballista can be switched out to a different caliber in minutes thanks to a variety of stainless steel barrel options.
---
You can turn this into a 300 Winchester Magnum, 7mm Remington and a trusty .308 with the modular barrels and bolt conversion kits. Don't get too excited, each kit, and that is a barrel bolt and magazine, costs an extra $2,249.00.
---
But if space is at a premium, you keep a small collection of guns and you want the absolute best sniper rifle for sale in 2021, well this is close.
---
Multi caliber Rifle Gives You Options
---
Now you also get three FN Ballista FDE rifles, in a variety of calibers, for the price of one top of the line Sako on a similar 'tactical' chassis. So if you're not on the cutting edge of competition and you just want to enjoy your hobby with high-quality equipment, this is all the gun you need
---
If you're a hitman that works in the urban jungle for the armed forces and then needs to take someone out from a mountain top, then yeah this will do the job too.
---
Range is everything in this world. Especially if you're in the underworld and want to take people out without getting blood on you. Icky…
---
30. Century Arms PSL 54 Rifle
Price: $2,699
Caliber: 7.62x54R
Barrel:
This Century Arms Designated Marksman Rifle built on the solid foundations of the Mosin Nagant has gained something of a cult following at ranges and it isn't uncommon to see the Romanian PSL (Pushka Snaiperska cu Lineta) turn up in competition.
---
Now we know one of the big attractions of the Romanian Dragunov is the cheap prices for old surplus weapons. But most of those have found homes, so a newly manufactured sniper rifle might appeal. That's really what Century Arms does best.
---
Century Arms has made a living from greats like the Draco Gun and Canik handguns. As well as cheap and cheerful versions of modern icons. But it has also branched out and produced a wide variety of historic firearms, shotguns, and wonders like this hybrid DMR sniper rifle.
---
The AK roots are fairly clear to see and the Eastern European flavor is what attracts a lot of folks. They then go on to argue about ballistics advantages and the like. But it's fair to say this is bordering on a retro fetish gun that just happens to perform pretty well.
---
And if you want an AK-based Designated Marksman Rifle, which is a pretty obscure thing to want but here we are, your options are limited. Century Arms has at least one viable answer for you.
---
Other Weird Stuff For Sale
Now a lot of the real military stuff, assault rifles, shotguns, proper grenade launchers, submachine guns, and that kind of thing, well they're off limits to civilians. But you don't need assault rifles and grenade launchers to get pretty wild these days.
---
We have custom semi-auto AR-15s that fire trusty 5.56x45mm NATO and are basically the real deal assault rifles minus full auto. You can also order a semi-auto version of the submachine guns that travel the world in more capable hands. From the 9mm Scorpion Evo to the 300 Blackout pistols with a red dot sight up top that are designed for use with a suppressor, you can get them all. Body armor, too, for that matter.
---
Upgraded gun parts can turn a lot of standard fare into sniper rifles and we could get into eccentric single-shot rifles. But we think you've got enough for now.
---
Air Rifles Can Be Snipers
---
Even air rifles can be a snipers these days. You can buy a 50 Cal air gun, sort of, here. The truth is that military tech has filtered down through firearms, rifles and everything from the humble red dot sights right through to the bolt action rifle collection you see here. With the right gun parts & accessories, you can transform even a basic weapon into as close you're allowed to get to assault rifles.
---
Check out the higher end AR-15s, too. They do use 5.56x45mm NATO, but a lot of the DMRs have 18 inch barrels that do make a difference. So if 5.56x45mm NATO is your thing, they can still work as snipers.
If you want to practice the art of the sniper, but don't have the funds, a single shot black powder rifle will teach you a lot on a smaller playing field. Much smaller.
---
What a black powder rifle will do is make you consider the single shot, plan ahead and focus on your technique. Because it takes time to reload. Any single shot rifle really isn't a bad place to start anyway. Simple engineering makes for a super reliable firearm. With so few moving gun parts in a single shot rifle, repeatability is assured too. That's important when you're fine tuning your technique.
---
Black Powder Sniper Rifle? Really?
Black powder rifles can be a cheap option. But lety's not kid ourselves, the world should have run out of bullets before any self respecting hitman turnsa to the old black powder muzzle loader.
All rights reserved. For a copy of the privacy policy terms & conditions then enter your email address and get in touch with customer service. But do you want them? Really? Or the site map? You should get out more and customer service might not even respond to this madness. That's not what our customer service department is for.