Q Honey Badger Pistol For Sale
Price: $3,048.99
Barrel length: 7 inch
Caliber: 300BLK
Weight: 4 lb 8 oz
Length: 24 inch
Capacity: 30+1
The Honey Badger by Q started to look like mythical vaporware.
The 300 blk Honey Badger was developed in conjunction with an elite US special operations team by AAC by previous owner Kevin Brittingham and his R&D team. It became a star in the world of video games was finally coming to the real world. That was way back in 2013.
The original version never quite made it to the commercial market.
Often advertised, never in stock, it was like the firearms equivalent of Sasquatch.
Was the Q line of guns just a cruel hoax? It looked like that was going to be the case when Remington announced that it would pull AAC out of the rifle business and focus purely on suppressors back in 2015. That looked like the end.
But then here we are, looking at a Honey Badger by Q.
It is finally here, and it's for sale in a mildly sanitized form. A lot of stuff has happened in the meantime and we'll try to recap it as best we can, but the long and short of this is that you can now buy this pistol. Almost free of fear….
Order Your Q Honeybadger Today
You could have it in your hands in 48 hours if you order now. You can now order The Fix by Q, too, which is the 6.5 Creedmoor sniper rifle that we will get to in one moment. The Q Sugar Weasel pistol has arrived, too, and we're going to get into all these now. First, the headline act…
What are the Technical Highlights of the Q Honey Badger Pistol?
The founder of AAC, Kevin Brittingham, set off on his own to make the Q Honey Badger and other fever dream weapons under the Q brand. After several redesigns and a serious tussle with the ATF, here is the result of his hard work. And this pistol is just incredible.
You only need to look at the clear hard coat anodized 7075 Aluminum receivers, beyond Mil-spec, to see the attention to detail that has gone into this gun. It isn't a checklist of features to sell to the unsuspecting public, it is a perfectly engineered weapon of war that you just happen to be able to buy.
That 2 position telescoping brace designed by SB Tactical is open or closed, which was one reason the ATF gave for calling it a Short Barrel Rifle. It's centralised, it's solid and it gives you a steady base to work around. But it's different and the arm strap cam later as one of the real world concessions the company had to make to get past the authorities and put this on sale.
More Technical Features…
Aluminum receivers, free-floating MLOK handguard 6 inch, adjustable low-profile gas block, muzzle device, 70 degree safety selector, 2 position telescoping brace, adjustable two-stage, match grade trigger are all part of the package and the gas system is proven in the field and in thousands of hours of lab tests.
The muzzle is inevitably threaded for one of AAC's trademark suppressors and also gets a cherry bomb muzzle brake. Inside, it's a match grade and Mil-spec barrel, and it gets a 1:5 twist, and you can take a deeper dive into that cherry bomb here.
Neat Design, Everywhere
Even the charging handle is neatly tucked away up top and this is a gun that has just been well thought out at every single stage.
It is a reimagined AR pistol in a lot of ways and you can see where the money is going, even though you could get a very solid gas-piston AR-15 for this money, or even a HK SP,. or custom AR-15.
That's the dilemma, but then if you collect guns, this is one you need in your collection. And if you have just fallen in love with the designer label or the games, then that's good enough reason too.
Simply put, the Honeybadger by Q is going to sell out fast and I'm not sure it's going to be around forever. The management are clearly doing their best, but this doesn't have a well-funded corporate feel and this might be a brief window. So jump through it, grab yours now. You'll have a piece of history.
Q Honey Badger Redesigned Before Commercial Sale
The original developed at AAC has given way to a new design along the way, with a series of upgrades, compromises and legal loopholes. It was worth the wait.
There is already a pool of sharks waiting for this 300blk 7in pistol, including this whole list of the best Blackout pistols in 2022, and the best AR Pistols on the market. But it looks good enough to go toe to toe with any of them. Elite US special forces don't take garbage into battle after all.
What's Special About a Honey Badger Pistol?
The size is the big deal. This is a compact pistol, shooting proper 300BLK, in a package that looks as compact as the best sub-machine guns that we really can't buy. it's a legit rival to the Sig Sauer Rattler and we don't see many of those.
It's light, it's perfectly balanced and you really can carry it all day.
This comes with a 300blk 7in pistol barrel, 20″ collapsed total length and a 4.5lb total weight, this is a thing of beauty.
Integral suppression is also on offer on the pistol which is seriously clever. It all adds to the price tag, but then you already knew that…
Basic Technology, Done Well
Aside from that, the Honey Badger by Q is a pretty basic rifle that has been engineered to the nth degree. It's a direct impingement AR-platform when you look at it with a cynical eye, but then that fits the military profile of basic technology that won't break in the field.
Yes, it's a designer AR-15. But the brand has been built on engineering and military precision, rather than marketing fluff. So that's a brand I don't mind buying into and paying a little more for.
You get the spec list of a rifle you could realistically buy for $1,000 without the overengineering. In fact we did a list of AR-15s for $1000 recently and you can see for yourself that is precisely the mid-range, direct impingement rifle brigade we're talking about.
Is the Q Honey Badger worth the money?
It weighs in at 4.5lb, the telescoping stock is about as lightweight as it gets and everything on this rifle has been pared down or stripped completely, then coated with a durable finish that looks the absolute tits. Especially with aserious red dot up top.
The mix and match colorscheme covered with clear hard coat anodized 7075 aluminum is clever, raw and gives the gun a genuine military flavor. It also contrasts with the perfect fit and finish and gives this gun more character.
Design wise it's genius. It's all about the compact, lightweight frame and the portability, but it emerges with a personality. With the history, the backstory, call it what you want, it's probably worth what people want to charge.
In one way or another, this will be a collector's item.
---
The Rest of the Q Line Up
Q revealed a series of weapons so revolutionary that the cynic inside us wrote them off as crazy, and the passage of time sort of proved us right. But now we can see an entire model line in front of us and damn they do look good.
Here are the highlights….
1. The Fix by Q
Price: $3,305.99
Caliber: 6.5 Creedmoor
Barrel: 24 inch
Weight: 6.5lb
You can finally order the precision rifle, too, The Fix by Q, from our partner. That's a $3,300 sniper rifle that can take down Elk, people and just about anything else at 1000 yards plus. it's an exciting, sexy new rifle.
The Fix by Q, is certainly one of the best-looking, 6.5 Creedmoor rifles on sale.
Honestly the basic idea of a lightweight precision rifle for the field was so good that you can now see a similar idea with the Sig Sauer Cross and Christensen Arms Modern Precision. When Q decided to build a bolt-action pistol, that seemed to start another trend.
The rifle is a lightweight one piece receiver and you can order one in 308 Win Mag or 6.5 Creedmoor.
Others could argue, but Q could claim to have redefined this sector and paved the way for these best selling rifles. Indeed it does claim the biggest step forward in bolt-action rifle design since 1962.
We want these guns to find traction, because honestly we want to see what comes next. Brittingham is an innovator, that much is clear. He even seems to have inspired Sig Sauer more than once…
Obvious Rivals…
1. Sig Sauer Cross
Price: $1,599.99
Caliber: 6.5 Creedmoor/308 Win Mag
Sig Sauer created this folding rifle that allows hunters to take a proper sniper rifle out into the field. Or other people to take a lightweight rifle target shooting.
The Sig Sauer is available in 308 Win Mag and 6.5 Creedmoor as well. It weighs about the same and has that folding stock in its favor.
We like the Sig Sauer a lot and this is a rivalry that looks kind of tough for Q to take on. Sig Sauer is a massive company with huge resources and a lot of sexy guns. Yeah, this is a touch one…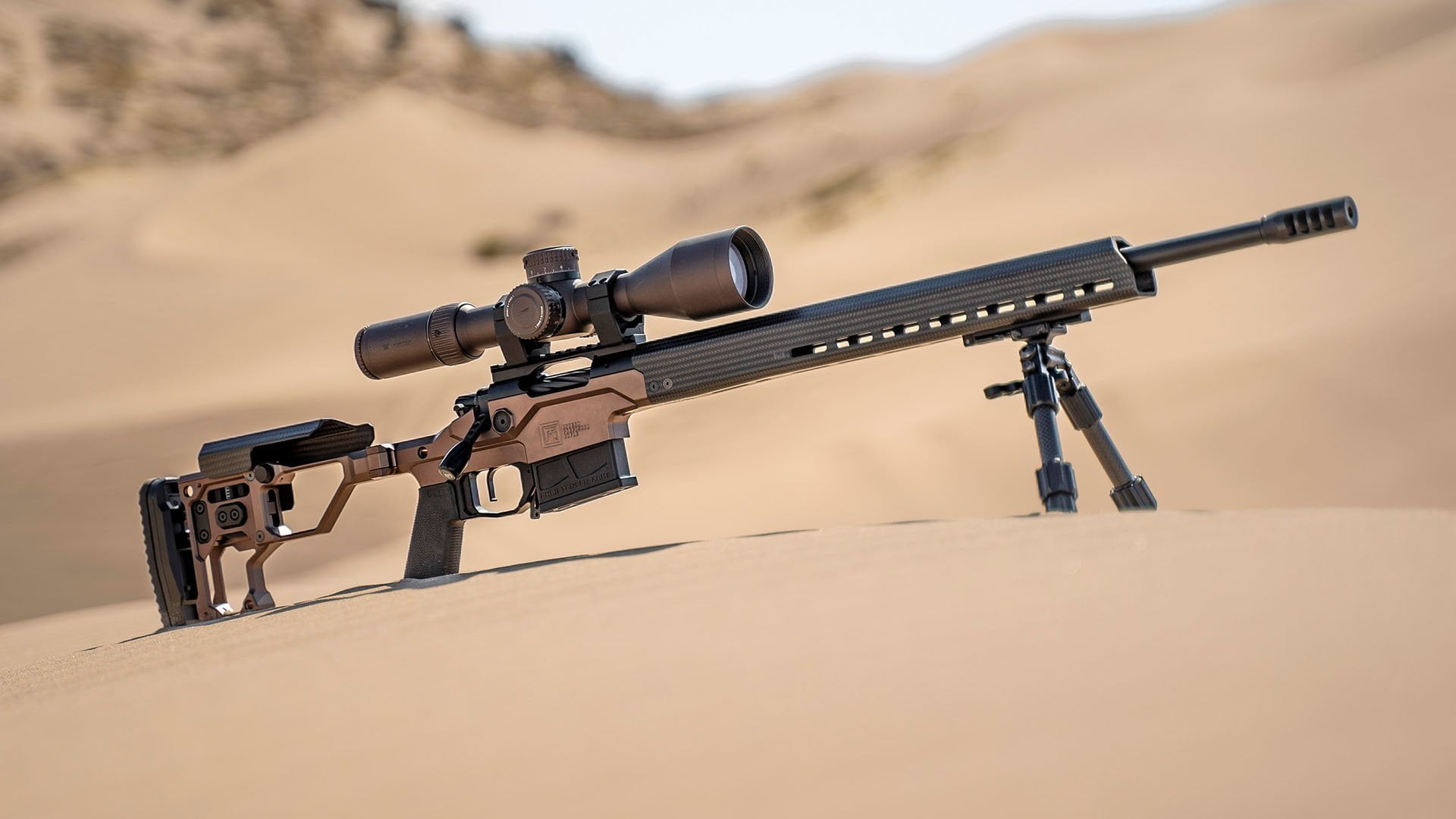 2. Christensen Arms Modern Precision
Price: $2,399.99
Caliber: 308 Win Mag/6.5 Creedmoor/338 Lapua
The Christensen Arms Modern Precision is in the same ballpark price wise, but it comes with modern materials.
Extensive use of carbon-fiber in the stock and carbon-fiber wrapped stainless steel barrel save weight at every turn.The Modern Precision also has a folding stock that is seriously clever.
---
2. Q Sugar Weasel
Price: $1,994.99
Barrel Length: 7 inch
Weight: 4.8lb
The Q Sugar Weasel is the cut price alternative to the range topping Honeybadger pistol.
Now the Sugar Weasel is slightly heavier and the stabilizing brace is a simpler affair, but you get the same muzzle devices, the same gas block and the same free-floating 6-inch M-Lok handguard for weapon lights, laser sights and a rail for a red dot. It doesn't get the two stage match trigger, though.
The Sugar Weasel isn't cheap and there are a lot of AR pistols it has to go head-to-head with in this price bracket, including the Daniel Defense DDM4. But it's a stylish gun and people might simply opt for the Sugar Weasel because it is an affordable Honeybadger.
And they might be right to do so.
Obvious Rivals…
There are a lot more rivals waiting for the Q Sugar Weasel, including another of the old enemy.
1. Sig Sauer MCX Rattler
Price: $2,709.99
Barrel: 5.5 inch
Weight: 5.1lb
The Sig Sauer Rattler is a legend and it too was designed with military specialists for use in the field. It too is designed to run suppressed and there really isn't much to choose between them.
Sig Sauer has been around forever and likely will be around for a long time, too, and that means it can be an attractive option.
---
Who are Q and What is a Honey Badger?
The original Honey Badger was actually the work of AAC, Advanced Armament Corporation, which in turn is a subsidiary of Remington. It could well have turned into their firearms skunkworks, but the management waters look to have got a little murky and Q is a true standalone company making civilian firearms.
It is a lifestyle brand, using the very best military technology, that has the potential to produce world beating guns from what we have seen so far.
Brittingham started AAC when he was 19 and he has had a major impact on the world of suppressors and ammunition. His company created 300 AAC Blackout, is one of the world's authorities on ballistics and silencer tech and let's just say we're pretty keen to see what he can do with a designer AR-15 now he is past the internal hurdles.
He has built a cult following in the industry and there's no doubt the Honey badger by Q is a big deal.
A Video Games Legend
It has appeared in War Inc, Call of Duty, Splinter Cell Blacklist and more. It's a gun that had a reputation before it was even for sale and this virtual launch has created a lot of hype that the actual firearms have to live up to. The early signs are that it has exceeded expectations.
The pistol came first and was designed for special forces teams to use in the field. The special operations group wanted to replace their MP5-SD's with an upgraded platform with the ability to shoot 300BLK rifle caliber.
Blackout ammunition is perfect at close range, especially with a suppressor. It isn't quite whisper quiet, but it's close, and it's absolutely the epitome of a special forces round.
Simply put, it's a more effective killing machine than the 9mm HK MP5, And, having exceeded expectations with the military, the company set its 300 blk pistol sights and muzzle devices on the private sector.
They already had the ultimate SBR. All it took was a SB tactical brace, adjustable of course, to turn this into a pistol for the open market, well that and removing full auto fire, and a long discussion with the authorites. It has taken a few years to offer the gun for sale to the public for those reasons.
Why Did the ATF Ban the Honey Badger 300 Blackout Pistol?
Essentially in 2020, the ATF decided that these were short barrel rifles, without any real clarification as to why. Basically, unspecified issues with the pistol brace that turned pistols into short barrel rifles in the eyes of the law. Get used to that, its about to happen more…
It issued a cease & desist, then delayed that, then eventually conceded it was a pistol after all after Q and SB Tactical worked with them to deal with their objections with the proprietary pistol stabilizing brace. It turned out there really wasn't much concrete.
So the ATF never really banned the pistol, but it certainly caused issues for Q.
What Weapons Are in the Honey Badger by Q Line-Up?
Alongside the military SBR, there is a street-legal pistol to you and me, an AR-15 rifle and a Creedmoor 6.5 sniper rifle called The Fix in the Honey Badger by Q line-up. There's a Mini Fix in the works, too, chambered in 224 Valkyrie, that is being offered at an insane discount, if you're prepared to wait an unspecified amount of time..
That hunting rifle, sniper rifle, call it what you will, is one of the coolest things ever by the way. Yes it's more than $3,000, but just feast your eyes for a moment…
This is the bolt action rifle reimagined with military tech. it really is that good, in theory at least, and an optional 24 inch barrel and a 6.5 Creedmoor could and should be a class-leading combination.
Suppressors are intertwined with the Q legend and they are AAC's bread and butter. Inevitably then, the early shots of The Fix, and the potentially even cooler Mini Fix, all had silencers sitting proudly on the barrel. It just made it look like even more of a hitman's gun.
You can order a pistol or SBR with integral suppression, too, thanks to the Q Thunder Chicken suppressor. Thunder Chicken, yes, I'm not even joking.
Look at this gun. It could so easily feature in John Wick 4, they just need to get in touch and do a deal.
Cutting Edge Weapons Across The Board
All of the weapons look the absolute best of the best, the top rifles, pistols and SBRs in the world in their respective weight classes. We just don't include them on our best of lists because buying one is pretty much an achievement in itself and I want to see them for sale in legit places. This one is.
Where to Buy a Honey Badger by Q Blackout Pistol
You are going to struggle to find these pistols at the usual suppliers and the best source we have found is Guns.com. The mulitple vendor approach means Guns.com can offer gun deals that other big box gun stores just won't mess with.
So check here for the full line of Q Live or Die. If you see them, buy guns online today and you can finally say you have this poster child for the AAC Blackout pistol movement.
The Footnotes
All rights reserved. For a full copy of the privacy policy terms & conditions, please contact customer service and leave your email address.