The Best Semi-Auto Tactical Shotgun or Gimmick?
I am telling you upfront. These are NOT traditional shotguns. What you see here is the new breed of high-capacity tactical shotgun with a trick or two up their sleeve.
They are modern solutions to the age-old shotgun problems:
Capacity – They normally don't hold many rounds.
Reloading – It's too slow.
These are tactical flaws in most modern pump-action shotguns and semi auto shotguns for sale.
What are High-Capacity Tactical Shotguns?
For our purposes here, it is a weapon that beats these problems, either with a massive capacity or a quick reload system.
That's a defensive shotgun in our eyes, because five or six rounds might not be enough. It's just cutting it too tight and that means that most people now pick up an AR-15 in some form or another as their first firearm.
So if it can beat the capacity problem, it's a winner. It's really that simple. The rails for lamps and lasers, they're less important today.
Mag Fed Shotguns Set to Take Over
2023 is definitely the year of mag-fed shotguns for sale, but we wanted to show you different solutions to a common problem.
This is a day when we dare to dream that this new breed works perfectly, failure to feed isn't a thing and we're holding the future in our hands.
With a few small improvements, I think that's the case. These could shape the future.
So, what are the best high capacity shotguns for home defense? And why?
---
---
1. Kalashnikov KS-12 Tactical
Price: $991.00
Gauge: 12 Gauge
Barrel Length: 18.25 inch
Total Length: 38 inch
Weight: 8.86lb
Capacity: 10+1
The Kalashnikov KS-12 Tactical is just an assault weapon. There's no other way to put it. This is the best semi automatic shotgun with AK style. It's perfect and our top pick.
Kalashnikov products were banned in the USA for a good long while, but Kalashnikov USA looks to be the neat solution to that thorny issue.
Now the Russian icon is back on these shores and you can buy the 12 gauge version of the world's most famous assault weapon. This ain't grandpa's side by side etc…
AK-47 Design, 12Ga Shotgun Power
Now the best high capacity shotgun, the Kalashnikov KS-12 Tactical, is a thorough rework of the age-old AK-47 layout. You also get an AR-style collapsible buttstock and a quad rail free float handguard.
The fit and finish of the Kalashnikov might not give some of the others sleepless nights and it does have a plasticy look and feel. But this is tried and trusted technology and it also comes with an added bonus with that detachable box magazine fed shotgun set-up.
Saiga Upgrades Slot Straight On
Any Saiga drum mag or mag will fit these semi autos. So you could have a 50-round drum hanging off the bottom of an AK-47 platform… That is proper capacity and possibly the best shotgun system there is.
The AK rifle layout and collapsible stock will make this affordable semi auto shotgun an instant hit and the basic precision on offer means you can use your Kalashnikov as a hunter or a competitive shotgun, where the rules allow.
It's versatile, it's brilliant and it's an absolute beast of a home defense shotgun.
---
2. IWI Tavor TS12
Price: $1,288.99
Barrel length: 18.5 inch
Total Length: 28.4 inch
Capacity: 15 + 1
Truthfully, we had almost given up on seeing these shotguns for sale. It was launched last year, went on permanent back order and then there it was for sale. Like now.
If your local gun laws allow it, get yours now if they're in stock when you click the link. Do not wait, these are the first and possibly only ones we have seen for sale and we know stocks will be up and down as demand outstrips supply.
This is fascinating, like the dangerous looking girl at the end of the bar. You kind of know it's bad news, you know something will go wrong, and yet that doesn't stop you lusting after it.
The Most Fun?
It would be an awful lot of fun.
It's a complex looking, sci-fi movie shotgun. Yes all those moving parts might make for an interesting experience along the way, but that's part of the charm and there is simply nothing else like this on the market.
It shoots 15+1 rounds of basic 2 3/4" shells thanks to rotating tubes that hold the rounds at the front. The loading tube is basically a carousel and you get five rounds in each tube and one in the chamber.
We love it. It's expensive, it's complex and we don't care. The IWI Tavor TS12 is one of the best shotguns for sale in the world and easily the best bullpup shotgun. If you can find one to buy.
The best mag-fed shotguns are a lot less complicated and that little bit more versatile. But it's close.
Reload Through One Feeder Tube
It is reasonably fast to reload through a rear-facing aperture into the magazine tube. But you will have to fish out loose shells and feed them in, so you'll probably be feeding five and shooting after the first onslaught.
This gun, though, is for the sci-fi nerd in all of us. It's the future, or a gimmick, but it's an awful lot of gadget-based fun.
---
---
3. Rock Island Armory VR60
Price: $419.99
Gauge: 12 Gauge
Action: Semi automatic
Barrel length: 20″
Total Length: 39″
Weight: 7.4lb
Capacity: 5+1 rounds
Rock Island Armory won't win any design awards with the RIA VR60 shotgun, but that doesn't really bother this company.
It has a devoted following for its 1911 handguns that love these reliable beater guns. The shotguns are quickly getting the same reputation.
These AR-style shotguns should do you just fine as home defense shotguns or for competition.
There really isn't all that much trick tech here. The Rock Island VR60 is just a low budget shotgun with a little personality. That could go a long way.
---
4. Black Aces Tactical Pro Series M
Price: $399.99
Barrel length: 18.5 inch
Weight: 10lb
Capacity: 10+1
Black Aces Tactical used to customize Mossbergs and Remingtons. Now it makes its own line of cut-price 12 gauges that one day might be the best home defense shotguns built to accept the ubiquitous Saiga magazines.
Now this gun did start out much more expensive, and it deserved to be. but now it's on sale and if it stays anywhere near this price, it's an absolute steal.
Any functional shotgun under $200 is an achievement. A mag-fed gun with a billet aluminum alloy receiver? Well that's something else entirely.
If you want the Mossberg and can't quite justify the money, then this is the answer right here. And check the drum mag…
---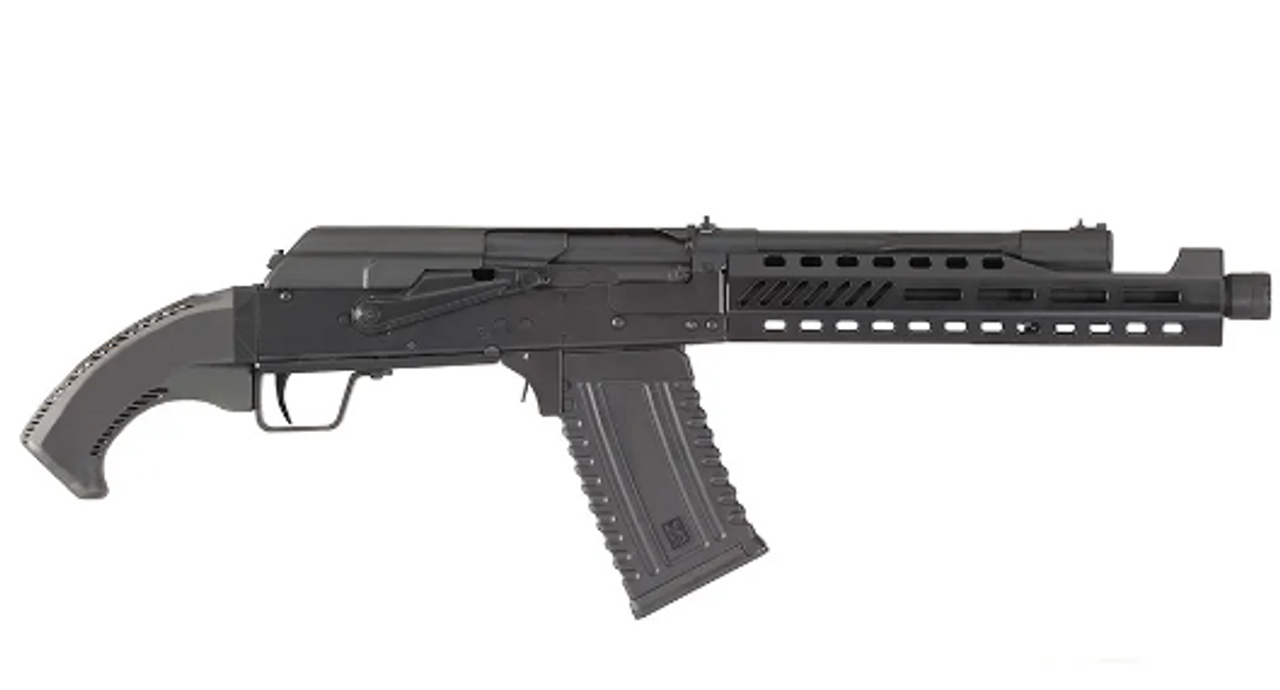 ---
5. Kalashnikov Khaos
Price: $1,191.99
Barrel length: 12.5 inch
Total Length: 31.5 inch
Weight: 7.85lb
Capacity: 5+1
Kalashnikov USA was already on top with the full-length shotgun. But this is just insane. It's a total rethink of the semi-auto tactical shotgun.
Take your purist's hat off and show me how this isn't the ultimate close range shotgun? If it works perfectly.
I mean it's close to concealed carry. We're running out of hyperbole for this top pick…
This is just the perfect defensive shotgun. Bring your Benelli M4, your John Wick special, whatever you want. This, right here, is the semi-auto tactical shotgun you never asked for, but you really, really want.
AK Shotgun a Beast of a Close Quarters Combat Weapon
It's a serious Close Quarters Combat weapon. You can mix up mags with buckshot and slugs and it's about as potent a combat shotgun as you can reasonably have by the side of your bed.
We expect to see the best semi auto tactical Kalashnikov Komrad shotgun in movies too, lots of them, possibly with a selector switch because, well, why not? It's a movie and this is a total combat shotgun.
The Future of semi-auto shotguns…
This semi-auto shotgun goes beyond the capabilities of a traditional 12 gauge and is the new breed. It makes actual tac shotguns look like some old farmer's beater gun.
The mags give you up to 10 rounds with a box mag and much more if you want to go with a drum. This could be a 50-round weapon of mass destruction if you trust your Saiga drum mag with your last line of self-defense.
Like a lot of the AK-47 rifle style shotguns, but not all of them, this shorter pistol uses any and all Saiga shotgun magazines.
Shotgun With a Pistol Brace
The Kalashnikov Khaos shotgun for sale is an absolute weapon of war and you can dress it as you see fit. There are rails for all your tactical gear, space for a foregrip and that cut down pistol grip.
A tri-rail forend grip includes two side rail optics mounts and your standard Saiga accessories will fit pretty much everywhere.
Upgrade the 10-round magazines for sale from Kalashnikov USA, or 50 round drums, and you have got real options.
The short barrel turns serious buckshot into pure evil at close quarters, while slugs will be effective at anything like personal defense distances. Tell me how this isn't the ultimate civilian combat shotgun?
Loss of Range Pays Off in Spades
You will lose some of the top end range that you'll get with the 18.5 inch barrel version. That's inevitable, but you get an awful lot in return.
This is a pretty unique weapon, it's easily the best tactical shotgun on this list and it might usurp your AR pistol's place in your defensive firearms collection.
This is the next generation shotgun, high technology in gunporn form. Gun reviews love this best home defense shotgun. So do I, so do you.
There are no better shotguns for defensive work and there really isn't a better combat shotgun out there right now. Get one…
---
---
6. Standard Manufacturing DP-12 Double Barrel
Price: $1,009.99
Capacity: 14 Rounds
Barrel length: 18.8 inch
Total Length: 29.5 inch
Weight: 9.75lb
Sometimes you just need power and what could be better than a double-barrel shotgun for sale at a time like this?
What Gun Can Defend Against a Rhino?
What time would that be? Think being charged by a big bear up in Alaska. Or a rhino or lion in Africa. But it doesn't fire both barrels at the same time, it just racks both chambers with one pump action.
Pro hunters still tend to opt for a Casull handgun as a back up, but these 12 gauge pump action shotgun could be a real option. The Standard Manufacturing DP-12 is also just a badass gun and lots of fun to shoot.
Double Barrel Shotgun Eats Ammo
If you come in all gun blazing then you will use up the 14 rounds faster than you want., but that's the price you pay for this kind of surreal firepower. Whatever you're firing at simply shouldn't be there anymore.
Load this dual magazine tube set-up with vicious slugs and this 12 gauge shotgun is not even an equalizer anymore. The trigger is basically a nuclear button at that point. With a reflex sight or big old iron front sight on that rail, it's hard to miss too..
This gun is 29.5 inches long, in total, and weighs in at a meaty 9.75lb. The extra weight and the bullpup stock help spread the load of your wild 12 gauge pump action best home defense shotguns as well.
You can go with slugs, and the potential for slaughterhouse-style destruction is pretty obvious. There are some horrible slugs out there in the world and if you pair them with a pump-action, double-barrel shotgun then it could get all kinds of wrong.
This is clearly a close-quarters self-defense weapon. The intruder would have to be beyond crazy to stay and talk about things when they run into the wrong end of this monster.
Ultimate Zombie Apocalypse Gun?
Inevitably you can dress it up with lamps and lasers. You should. This is a post-Apocalyptic zombie gun in the making and it's that intimidation factor that I think works.
Somehow, thanks to the Bullpup design, both of those barrels are 18 inches. So you actually get a sawn-off look with a real accurate finish.
---
7. Mossberg 590M
Price: $479.99
Shotgun barrel length: 18.5″
Total Length: 39.5″
Weight: 7.75lb
Capacity: 10+1 rounds / 20+1 Optional
The Mossberg 590M pump action shotgun comes with optional 20-round magazines. Really, 20 rounds of 12 gauge venom and then you can pop in another mag and start firing again.
That puts this 12 gauge pump action right up there with the best choice for home defense shotguns by default. It is peace, through superior firepower.
It also means you can load up an ammo belt with buckshot and slugs, so it suddenly becomes a versatile gun as well. Fit a red dot, or stick to ghost ring sights, use the right slugs and this is a total self-defence weapon. Up close, load up with buckshot and this pump shotgun is a beast.
Authentic 12 Gauge High capacity Shotgun, Plus a Mag
Pop the mag out on this Mossberg shotgun and you're good to go again. Still want that Benelli? I don't.
In my humble opinion, the Mossberg 590M is one of the best shotguns in the world today. It isn't expensive, and it could be a real equalizer.
It is also a simple tactical pump gun with detachable box magazines that hold up to 20 rounds of your chosen shotgun ammo.
Gun reviews have noted, though, that the 20-round mag is noticeably harder to rack. It isn't smooth and it is hard work. So you might opt for the 10-round version of pure performance reasons.
The Mossberg 590 has been with us since 1960 and there's a vast number of Mossberg parts and accessories. You want a picatinny rail or ghost ring sights for a 590? Yes that's just the start.
You can produce a fully custom Mossberg 590M, then, with a tactical brace, and turn this gun into something truly special.
---
8. JTS M12AK
Price: $279.99
Gauge: 12 Gauge
Barrel Length: 18.7″
Total Length: 39.37″
Weight: 7.75lb
Capacity: 5+1
The JTS M12AK is the low budget version of the Kalashnikov Tactical shotgun, but it largely does the same job. Prices vary wildly, but we have seen this shotgun as low as $300. That's a bargain for these best home defense shotguns.
JTS focuses on affordable shotguns and has an AR shotgun and bullpup out there, too. So you get the basis of a solid, reliable firearm underneath the traditional AK clothing.
You also get a Picatinny rail. So you can mount ghost ring sights, or a red dot on these semi autos.
---
9. EAA Akdal MKA 1919 Match Pro
Price: $403.99
Gauge: 12 Gauge ammo
Barrel length: 20 inch
Total: 39.5 inch
Capacity: 5+1
This is an AR-style shotgun that looks totally in proportion. It might be the best looking of the bunch.
That 20-inch barrel is the key to this semi-auto shotgun looking roughly right. It's a tribute act, not an exact replica of the legendary AR-15 semi autos, but it all works.
An old-school matte black synthetic stock and enlarged handguard that contains the buffer tube all kinda work. You can adjust the cylinder choke at the front of that handguard and there's a fixed front sight on the MKA 1919 Match.
This is more than just a pastiche. The Akdal MKA 1919 Match Pro is a solid 3-Gun competition shotgun, for a fraction of the price of more celebrated options.
---
10. Kel-Tec KSG
Price: $649.99
Gauge: 12 Gauge
Barrel length: 18.5 inch
Total Length: 26.1 inch
Capacity: 12 + 1
Honestly, pound for pound, and certainly in terms of bang for buck, the Kel Tec KSG could still be the best 'assault shotgun' in the world. You can also just about use the KSG 12ga as a concealed carry. I know, because readers have…
But it's another weapon where the reliability is suspect and that leaves a question mark over any last line of defense for these pump actions. There is reportedly a DIY polishing kit that fixes the issue and leaves your Kel-Tec butter smooth, but basically polishing up the feed ramp should do it.
The Best Bullpup Pump Action Shotgun?
The KSG is a bullpup pump shotgun, but it's compact and it weighs 6.9lb. That's not a hell of a lot, and the whole gun is just 26 inches long with a flip up front sight and rear sight. It's virtually all barrel, too, and you get an 18″ barrel. Technically then, it's a hunting shotgun…
Even wilder bullpups have followed since and you can see some of them in our best bullpup shotgun post.
You could certainly make waves at the club turning up to blast clay pigeons with a bullpup and a red dot. It's the ultimate assassin's shotgun and it's no surprise that the likes of John Wick have carried this high capacity shotgun in the movies.
Have We Mentioned John Wick Lately?
Any excuse to put a John Wick trailer in, because we love those movies round these parts.
You'll see him again in a minute and it's almost like this Hollywood endorsement has worked on us. But then again how many gun manufacturers have the world's greatest hitman as their sponsored athlete?
Maybe take a look here when you're done:
Parts & Accessories Readily Available
There is also a roaring trade in aftermarket parts. You can get everything from a bayonet to laser sights for the tactical 12 gauge pump action shotgun. This is the cheaper, more fun high-capacity shotgun. The Tavor is more serious.
This pump-action shotgun has become a cult in its own right, and that is awesome. You can get all kinds of parts and create the ultimate personal defense shotgun for you.
Is the KSG Reliable?
There have been too many failure to feed issues reported on the web to ignore. Make sure yours is clean, straight away, with at least 100 rounds of shotgun ammo down the range or in the field. Do that, get a clean one, and they're amazing.
There is an easy fix that involves polishing the internals to a mirror finish and that should fix the feed problems.
The gun uses two separate magazine tubes for a 14+1 capacity. This one has been tested with minishells, too, and you get 25 in the gun without any issues. Just because you can, doesn't mean you should. But you can…
Compact as an AR-15, With 12 Gauge Impact
So this one is more compact that an AR-15, weighs about the same and kicks out 25 rounds of mini shells. And there you have a potent weapon for taking out the trash.
You need to switch a lever manually to switch between tubes to make the whole thing legal, but you get used to that.
Reloading takes time. So really you've kind of got what you've got, then you'll have to ditch the weapon and go to your back-up. If that's 25 shots, though, then you've got a war on your hands in any case.
Combined with one of the best AR-pistols for sale, it should be enough…
---
11. Stoeger Industries 3000 M3K
Price: $469.99
Barrel length: 24 inch
Gauge: 12 Gauge
Total: 48 inch
Weight: 7.3lb
Capacity: 10+1
The Stoeger Industries 3000 M3K is really a cut-price 3 Gun competition shotgun. But the capacity means it fits right in here, even with that outsized barrel.
A 24 inch barrel turns this into a long-distance precision shotgun, more than a close quarters combat weapon. But that's fine too.
This is a different breed and a great hunting shotgun.
Hunter and, Well, Everything
The Stoeger Industries 3000 M3K is a great all-rounder. You can take it into 3 Gun competition, you can hunt turkeys with it. Switch to slugs and take out boar and I'm struggling to see why it couldn't be a skeet shooting shotgun or field sports shotgun in a pinch.
A polished feed ramp, extended bolt release handle and a number of other 3 Gun touches are useful to more or less everybody. That's equally true for a range operator through to a hunter with gloves on.
The simple matte black stock provides a firm grip and keeps the weight to a more than respectable 7.3lb.
Basically if you want a competition shotgun, but don't quite have the funds for the big guns, then this is the shotgun you need to buy right now.
---
13. Benelli M4 Tactical (M1014)
Price: $1,968.99
Barrel length: 18.5 inch
Gauge: 12 Gauge
Total Length: 26.1 inch
Weight: 7.8lb
Capacity: 5 + 1
The Benelli M4 Tactical is the shotgun the Marines take into action and it's the preferred choice of crack military and law enforcement units everywhere.
It never fails, it's dependable as, well, a Benelli shotgun and it does everything right. from the pistol grip to the proprietary cylinder choke. That's why the Special Forces, Law Enforcement Agencies and just about anybody that loves the stopping power of a shotgun and can afford one likes to keep a Benelli M4 Tactical to hand.
Even with an 18.5″ barrel, this semi-auto shotgun is a joy to operate. Especially with the tactical stock.
Capacity is a Problem With Benelli M4
We have to face the fact, though, that a 5+1 capacity is a problem in a lot of scenarios. It's the very definition of a tactical disadvantage in this company.
Yes you can get an 8+1 extension tube, and the Benelli is as good as anything here with a couple of minor mods and A LOT of practice.
John Wick wields a Benelli M4 in John Wick Chapter 2 and he's quite brilliant with it. But he's The Boogeyman, the best underworld hitman the mob can call upon. So there's that…
Get John Wick Matchwarez Shotgun Shell Clip
There is also that clever clip that holds one shell right next to the chamber. That's one get out of jail free card, but you still need to learn to speed load.
That's where the polished internals and other mods come in, but the full works of a TTI shotgun, modified and fully custom, does not come cheap.
The John Wick Combat Master package Benelli M4 Tactical cost an epic $3,349.99, when we could sell you one, which was a sobering number.
---
Back to the Stock Benelli…
Benelli's perfect gas system is one of the few that will support God tier handling like that. But you have to be just as good as the gun and it's easy to see why people would opt for the simpler options.
You can use the Benelli for the first wave of shock and awe, especially with the collapsible stock that defines the Benelli M1014. Well that and the Auto Regulating Gas Operated system thing.
Then you have dump it for a back-up AR-15. There are other guns on this list, though, that have beaten this in-built compromise.
If you're good enough, it's still probably the best in the world. If you're a normal human being, there are cheat modes on offer elsewhere.
---
---
Where to buy Benelli shotguns online
A lot of online gunbrokers list Benelli shotguns, but a lot of them don't actually have any firearms to sell. So where is the best place to buy Benelli shotguns online? What gun store is the one for you? Check this post, or these links.
---
---
14. Citadel BOSS 25
Price: $425.99
Gauge: 12 Gauge
Capacity: 5+1
Barrel length: 18.75 inch
Total Length: 41 inch
Weight: 6.5lb
It looks like a stripped down competition AR-15, it actually fires 12-gauge rounds. That's an interesting combo, for the best home defense shotguns or big game hunting with slugs.
You get two five-round mags and a 20-inch barrel that has been tuned for lethal accuracy. So you get a longer range with this gun and you can easily add laser sights or an RMR if that's the way you want to go.
Basically this gun could deal with everything from hunting, bear defense and whatever else is coming at you. If something can take 5 slugs from this then there's not much else you could have done.
Lightweight and Accurate
It is designed for pure accuracy. It's an intriguing weapon and a larger magazine capacity would turn it into a viable hunting tool, a great competition shooter and a wicked bad defense weapon.
Add a lamp, a laser or even a scope and this is for defense, hunting and even taking a turkey down.
You need more space to swing it around, it's a long gun in this company, but you get the support you need to nail every shot when it counts. It's more of a sniper shotgun, then, but some hunters swear by them.
---
15. Mossberg 590M Shockwave
Price: $572.99
Capacity: 6+1 Rounds
Barrel length: 14.37 inch
Total Length: 27.5 inch
Weight: 6.55lb
You don't need to look too hard to see the Mossberg 590 Shockwave origins and that means it skirts the NFA paperwork, because it's a firearm not a 12ga pump shotgun. No Sirree.
It's the stubby version of the 590M, or a Mossberg 590 Shockwave with a high-capacity magazine, however you want to say it. And that means all the same firepower in a much more compact, close quarters package with a bird's head grip.
The New Wave is Winning
If you have this Mossberg 590 Shockwave by your side, and a few spare mags, then you're almost ready for any close-quarters altercation.
Add a brace to these pump actions and you basically have a legal sawn-off shotgun, with a box magazine. What's not to like about that?
---
---
---
16. Benelli M2 Tactical
Price: $1,210.99
Barrel length: 18.5 inch
Total Length: 38 inch
Weight: 7.2lb
Capacity: 5+1
The Benelli M2 Tactical is the younger, cheaper brother of the all conquering Benelli M4. So what's the difference? Apart from about $400?
It's all in the drive. The M5 uses the legendary ARGO Gas Operated tech perfected by Benelli for the flagship guns. The M2 uses a cheaper inertia-driven system that also saves a substantial amount of weight.
This is much lighter than the M4 at 7,2lb, and that could make a difference to you. Certainly more than the gas system's marginally better reliability in extreme temperatures and conditions. If you're not planning on fighting pirates on the high seas, or raiding desert camps, then maybe this is fine.
You get a tactical pistol grip, black stock and Benelli levels of engineering. It is good enough for most normal human beings, the best home defense shotguns requirements and close quarter 12 gauge encounters.
John Wick Used a Benelli M2
For a while we could sell you the gun that John Wick used to devastating effect in the third instalment of the movie franchise.
Taran Tactical innovations tuned the hell out of the stock Benelli M2 Tactical and turned it into the ultimate 3-Gun shotgun.
John Wick can be seen quad loading in this film, because why not? He is one of the few that could get a Benelli M2 working as fast as the Kalashnikov, though. I couldn't. You probably couldn't.
Everything from the feed ramp to the bolt release and gas rings are enhanced, extended or lightened. It's a long barrel shotgun with a proper shoulder stock, which doesn't matter in the cavernous halls of The Continental hotel. That could be an issue in your home.
There's no doubt this is a wild specced up shotgun from hell. It still isn't the most tactical here, but it's one of the guns of John Wick 3. So there's that…
---
17. Panzer Arms BP-12
Price: $510.99
Barrel length: 18.5 inch
Total Length: 39.75 inch
Weight: 8.12lb
What if you really like the idea of the AK-47 shotguns, but you're don't want to look like a Communist? And you like the bullpup design?
This Panzer Arms BP-12 is a magazine fed shotgun with a semi-auto action, a snug bullpup shotgun layout, a manageable weight and pretty decent accuracy. It's maybe the best bullpup shotgun with a mag you can buy right now.
Tac Shotgun, or a Mongrel?
It is a mongrel of a high capacity shotgun, but it works pretty well. We love the new wave of fast reloading shotguns,and this one even has an interesting sense of style.
Now it's still a bullpup, with the action in front of the trigger, so the action simply isn't as crisp as the AR style thanks to the extra parts. Get over that, and you'll love it as much as exisiting gun owners.
Panzer always seems to get great user reviews on online gun stores. The Panzer Arms 12 gauge bullpup shotgun is hardly a new idea, but it really does work here as a tactical shotgun.
ATI, Landor Arms and Global Defense Trade all have a version of this gun out there too. So look out for the best deal, as it's largely the same hardware.
---
18. FosTech Origin 12
Price: $3,060.99
Capacity: 10+1/30+1 Round drum optional
Barrel length: 18.5 inch
Total Length: 36.25 inch
Weight: 9.2lb
If money is no object, then yeah this is the coolest gun on this list by a million miles and possibly the best shotgun here.
Gamers will know it from the Warface franchise. Now it's here and it's real.
This was a modular kit that gave you everything from an 18.5" barrel to a 10" AR pistol shotgun set-up that still kicks out heavyweight 12-gauge buckshot. Now you get to choose between long or short with full length Picatinny rails up top.
It will empty a 30-round drum mag in just seven seconds. So home invaders probably don't want to run into this thing.
Hunting and Defensive Shotgun
It's an AK-style shotgun, if you want to call it that and you can order 8-round mags. Keep two or three with you and your shotgun is now a monster with all kinds of options. From home defense to big game hunting.
You'll spend 3K before you get started with the spare mags. But then you can defend your home and then go out in the morning and blast a turkey clean out. It is a different kind of shotgun. As one reader noted, it's almost impossible to get ahead of this gun too. it just keeps firing and the gas operated system is fricking unbelievable.
Is it worth the money? Not really, there are more cost-effective options. But it is badass.
---
19. SRM 1216
Price: $1,679.99
Capacity: 16 Rounds
Barrel length: 18.5 inch
Total Length: 32.5 inch
Weight: 7.05lb
The IWI Tavor TS-12 is basically the polished version of the SRM 1216, in fact this gun looks like the first prototype of the IWI that the designer knocked together out of wood. But this one is actually on sale, and you can buy it.
This agricultural looking option has one other big advantage – switchable tubular magazines, rather than locked in loading tubes.
Multi-Tube Magazine Shotgun
This gun was here first, and it holds 16 rounds of standard shotgun shells. You can easily get 24 mini shells through the system and that turns this into a seriously potent shotgun. Alternatively you can buy the version set-up only for Aguila minishells.
You get four separate magazine tubes. That means you can carry spare, pre-loaded tubular mags and switch them out in the heat of battle.
Different Ammo, For Different Folks
It also means you can have one tube of slugs, one tube of minishells, one buckshot and one of something else. That gives you real creative options and it also means it was a favorite police service weapon in some countries as they could cycle through lethal and non-lethal payloads.
It's a cool gun, a great concept and it might just have the edge on the Tavor thanks to the mag reload system. Still, this isn't the first choice for home defense.
---
---
20. Standard Manufacturing SKO Shorty
Price: $979.00
Capacity: 5+1/ 10+1 Rounds
Barrel length: 18.5 inch
Total Length: 26 inch
Weight: 7.14lb
It looks a little like a DIY SMG, but really the Standard Manufacturing SKO Shorty is a 12ga shotgun that has borrowed heavily from the world of AR pistols. Is it one of the best? Probably not, but it is an interesting curiosity and a good home defense choice.
It uses a magazine and although the stock option is 5+1, you can order a 10-round mag. That turns this into a potent weapon, although it isn't quite a match for the Mossberg 590M Shockwave or Remington Tac-14 DM in my humble opinion.
The pistol grip, mag and even the upper receiver are straight off an AR-15 pistol. It just shoots 12 gauge.
---
21. Mossberg Maverick 88 Cruiser
Price: $257.99
Barrel: 20 inch
Total Length: 30.375 inch
Weight: 6lb
Capacity: 7+1
The Mossberg Maverick pump shotgun. is designed to sit discreetly in your home, boat or truck. It's a straightforward pump-action shotgun.
Now, the Mossberg Maverick is bit longer than a Shockwave pump actions, but you get a 20 inch barrel that you can swing comfortably round your home with a pistol grip and no stock to get in the way. Or rear sight.
This is tried and trusted tech and as a truck gun under your seat, or on your boat, it's an awful lot of firepower in an awfully small package. The Mossberg Maverick is a solid option for home defense and you might want to have one as a truck gun.
Inevitably there are a world of accessories for the Mossberg Maverick, too, which means you can kit your 12 gauge pump shotgun out just how you like. Change the pistol grip, dress up the trigger guard. Fit spikes to your Mossberg Maverick. Do what you want.
---
22. Winchester SXP Marine Defender
Price: $385.99
Barrel: 18.5 inch
Total Length: 27..5 inch
Weight: 6.25lb
Capacity: 5 + 1
The Winchester SXP Marine Defender is almost a love letter to the Beretta Tactical Marine. But it's also good looking and affordable, with decent magazine capacity and a reduced recoil pad.
That's pretty much all there is to say about this basic tactical semi-auto shotgun, but what more do you need at this price? It's about as cheap as I would want to go with a complex action and the Winchester SXP name is kind of a badge of quality in that context.
---
23. Taylor's & Co 1887 T-Model
Price: $1,370
Action: Lever Action
Barrel Length: 18.5 inch
Total Length: 27..5 inch
Weight: 7.9lb
Capacity: 5 + 1
This stubby looking lever action shotgun is here more for the sake of completeness then any burning recommendation. There are better options here for more or less every specific job.
But if you want to have fun, and twirl a gun like a movie badass, well now you can. No judgment, we'd totally do that too.
This old lever-action shotgun is also known as a bootleg shotgun, for obvious reasons when you think about it. This was a peacemaker back in the Old West and slotted neatly in a boot, thigh holster or easily accessible in the saddle.
You can get cheaper models that are basically the same gun from the likes of Chiappa and Winchester. Just look for the 1887 and you're good.
---
24. Kel-Tec KSG-25
Price: $1,112.99
Barrel: 30.5 inch
Overall Length: 38 inch
Weight: 9.25lb
Capacity: 24+1
The bigger version of the KSG is here, you can buy it and then see if you can make this fantastic creation of a 12 gauge pump shotgun work. As a home defense last resort? It makes me nervous…
If the same polished internals approach works the same way then you could have smooth feeding devices and 25 rounds of 2 and 3/4 inch shells. That's a lot.
This isn't the smoothest operator, but it's all about that capacity. Treat it like a project, getting it to run smooth will be a part time job for a while.
But if you manage it, then you've got an absolutely awesome pump-action shotgun with 25 rounds of pure destruction before the twin tubes run dry.
Would I recommend it for home defense even then? Well that's another question entirely…
No.
---
25. Molot VEPR 12
Price: $800-$1000+ USED
Action: Semi-Automatic
Barrel Length: 18 inch
Total Length: 26.3 inch
Weight: 8.86lb
Capacity: 10 + 1
This is about as pure an AK-47-style 12 Gauge semi-automatic shotgun as you can find, and while the AK style is a little dated, the gun works to perfection.
This is a variation of the much-vaunted Saiga 12. And it's only here at the tail end because buying one is a giant PITA right now. Used guns seem to be all you can get.
Get one… If you can.
People hunt with this tactical semi-auto shotgun, shoot for fun and base their defensive set-up around this tough as old boots Russian. To have one is to love it. And there are so many options for a new pistol grip, ghost ring sights etc that you can change the charater of the gun completely.
Of course you have the Picatinny rail for mouting a red dot sight.
Where to buy a MOLOT Vepr 12
If you buys guns online then you might have sensed a drought of late as the Kalashnikov ban shakes out. FIME Group has the deal, though, and the MOLOT Vepr 12 should be a regular sight before too long.
Until then you can buy one here:
---
26. Remington 870 DM
Price: $500+
Action: Pump
Barrel: 18.5 inch
Total Length: 38.5 inch
Capacity: 6 + 1
The Mossberg 590M turned into quite the dance partner for Remington and the two have waged war for market share.
There wasn't much to choose between them. There's a heat shield here, a ghost ring sight there, but the truth is it comes down to personal feel. Brand loyalty matters too, and some other stuff. But the point is that they're not separated by much.
Apart from the steel receiver Remington is is off the shelves at the moment thanks to the endless company restructuring, or some other reason.
If versatility is a big deal for you then this could be a hunter and home defender. A supply of Remington shotgun parts & accessories and you can transform your gun for the task at hand.
This is a cheap mag fed shotgun that has some absolutely killer features. So we're keeping it here, in case it reappears. It should.
Fast Reloads Save Lives
By the time you have got one round into a traditional tactical shotgun, you've got six more shells or slugs ready to go in these combat shotguns.
Think about that for a second and maybe you'll be converted to the world of mag-fed shotguns too.
This guy shows it in action and it's a pretty slick process.
At short distances, a good spread of buckshot can turn a very bad situation around in a hurry and this could easily take over as your main bedside weapon.
Remington 870 Parts & Accessories Here
Check out the full range of Remington 870 parts and accessories here, pretty much all of them will fit.
You might want to keep yours standard, though, because it comes with a pretty solid tactical set-up.
With this cheap shotgun, you can turn it into an absolute tacti-cool beast covered in lights and lasers. Turn it into a zombie apocalypse gun if that's what you want to do. The simple fact is that the Remington's pricing, as well as the ease of use and slick mag change, give it the edge here.
We expect a mag with a bigger capacity to follow down the line. As it is, this is still one of the best home-defense shotguns we can see on this list. The fact it is also one of the cheapest kind of blows our mind.
Remington's Shotgun Magazine Is The Best
Remington has worked hard on these high-capacity shotguns. It isn't just a poorly thought out conversion.
The Remington 870 is part of American history, and now it just got better. The trusty old 870 is now one of the best on sale in 2023.
The company swears this mag will eat any ammo, 3 inch or 2 and ¾ inch shells, slugs and anything else you care to put through it. You can also drop the mag fast, slot another one home and you're good to go.
That means you can have an ammo bag full of color coded mags containing buckshot, slugs and even birdshot.
The Ultimate Home Shotgun?
Is it the ultimate shotgun for the house? It's certainly close and we can't see why you'd want a Mossberg Tactical or even a Benelli M4 over this piece of compact violence.
There will be traditionalists fighting for the Remington 870 Express and other pump-action shotguns from the Hall of Fame. They were great, they made their mark and they changed the nation. But their time is done and a new breed is here.
---
---
27. AA-12 Assault Shotgun
Price: $3,000
Caliber: 12 Gauge
Barrel: 18 inch
Weight: 11lb
This is another one that is 'technically' on sale, rather than openly available, thanks to some minor trouble with the ATF. Let us know if you have an AA-12, really…
Again, technically, the AA-12 semi-auto shotgun is the civilian version of a military icon and law enforcement secret weapon. The Special Forces used to take a fully auto AA-12 into action, and for all we know they still do.
The military has proven it time and again. That pistol grip and Picatinny rail for mounting a red dot, have gone into some of the most hellish environments on Earth in better hands than yours or mine. It's a totally ambidextrous safety and ejection port.
So it's safe to say this could be the best home defense shotgun. It's as good as semi-automatic tactical shotguns are likely to get, the gas system and reduced recoil are awesome and it's a popular movie gun.
30 Years in the Making
Designer Max Atchisson finally sold the rights to his creation in 1987. Since then, new owner Jerry Barber has tried to bring this military unicorn to market. Obviously, you can never have the full auto, that's life… And maybe not the semi-auto version either.
Recently the company announce limited sales of 12000 semi autos at a time exclusively through Gunbroker.com. It didn't really happen.
It was a weird marketing concept. But there is still a huge market. Somebody just has to buy the rights and set to work on these semi-automatics.
---
28. Benelli Nova Tactical
Price: $402.99
Barrel: 18.5″
Weight: 7.2lb
Capacity: 6+1 Rounds
The Benelli Nova Tactical and Benelli Supernova Tactical are both valid life choices when it comes to home defense. This Nova comes with more shells, or slugs, or whatever.
The steel receiver Benelli Supernova Tactical has just 4+1. So that isn't a lot, like at all. It's basically an expensive side by side at that point. But we have offered you a wide variety of long guns and the names you expect to see.
But if you're going for for inertia driven Benelli with the synthetic stock and you want more than a warning shot, you want the Nova.
---
---
Where to Buy Shotgun Spares
If you want a new pistol grip for your best shotgun, detachable box magazine, extended magazine release or a red dot sight, we can do that. Maybe just accessories for assault weapons or your cheap Charles Daly or Stevens 320 Security? Palmetto State Armory, that's where. Palmetto State Armory is our favorite shotgun store.
Where to Buy 12 Gauge Shotgun Shells
The best high capacity shotgun will burn through shotgun ammo, both 2.5 inch and 3 inch shells, that's no secret. So look at the likes of Palmetto State Armory, Lucky Gunner and Brownells Palmetto State Armory is currently our favorite for a lot of this stuff, so start there:
Lucky Gunner – 2.5 inch and 3 inch shells, follow up shots from hell.
What is the Cylinder Bore?
A shotgun bore is basically another way of saying the shotgun caliber. The bore of a 12 gauge shotgun is 0.730 inches. The 20 gauge is 0.615 inches. A 410 shotgun has a bore of 0.410 inches.
OK, Now What is a Choke For? Right?
Cylinder bore choke tubes offer the magical art of constriction to keep your shot together for longer distances and prevent excess spread.
A high capacity shotgun with a cylinder bore choke, then, is generally more effective at longer distances. For clay pigeons, turkey and waterfowl, you need choke tubes.
What About Local Laws on Large Capacity Magazines?
Yeah you are going to struggle with a lot of the top 10 best high capacity shotguns in California, New York and New Jersey. We try not to get involved in the legalities of transfer and possession. That's because your local regs vary wildly, especially in New York, California, New Jersey and a few other restrictive states.
So good luck with the transfer and possession at your local FFL dealer. Just remember that all your local laws apply when you buy guns online, even a high capacity shotgun. You have to fill out the paperwork at your local gun store, pawn shop or otherwise accredited FFL dealer.
So if you know the transfer and possession won't fly at your local gun store, then save yourself the pain of ordering online. Is possession allowed by your local authorities? And yes we're mainly looking at California, New York, New Jersey etc, then transfer and possession isn't gonna happen either if it isn't.
While you're here, check out some other stuff
What about a single shot break action black powder pistol while you're here with a big metal cross bolt safety bar? A single shot bolt action rifle? Break shotgun? Or a semi-auto 9mm AR pistol for that matter? Black powder rifle? AR-15 spares? Custom Smith & Wesson semi-automatic rifle? Knives, tools, feeding devices, we got them all…
---
All rights reserved. For a copy of the privacy policy terms & conditions, get on to customer service. Contact us through the main customer service email address. Or enter your email here, somewhere.
Now I'll be honest, customer service is just us, so we might have time or not. For now, enjoy and skip to main content for pistols, rifles, shotguns and more ideas for your gun store gift cards. We don't do gift cards, yet, but we're looking into it. Always check your local gun laws before ordering and look for free shipping. And don't molest our email address with weird stuff. Or we'll change our email address. We're getting a table of contents. Now skip to content..
Follow us on Instagram,