---
You may know I have a fetish for high-capacity shotguns and I think now is the time to buy mag fed shotguns. That is the tech that has won the day.
Grandpa used to grab his trusty double barrel. Now? The trusty AR-15 or even more trusty AR pistols offer 30 rounds and unerring accuracy.
The 12ga tactical shotgun was in danger of becoming a forgotten memory.
Novelties like the new age double barrel Kel-Tec KSG and triple barrel Tavor TS-12 showed the way back to relevance with radical and yet complex designs. This is simply the combination of age-old tech that we know works to create an obvious future for the best tactical shotguns.
Here are the best magazine fed shotguns, in our humble opinion.
1. Mossberg 590M Series
Price: $514.99
Barrel Length: 18.5″
Total Length: 39.5″
Weight: 7.75lb
Capacity: 10+1 rounds / 20+1 Optional
The Mossberg 590M mag fed pump action shotgun comes with an optional 20-round mag.
Really, 20 rounds of 12 gauge venom in a double stack magazine, and then you can pop in another mag and start firing again.
It also means you can load up an ammo belt with buckshot and slugs, so this tactical pump shotgun suddenly becomes versatile.
One of the Best Shotguns On the Market
The best magazine fed shotgun holds a lot of appeal when the chips are down, especially when there's a reservoir of 12 gauge shotgun ammunition in front of that synthetic stock with integral recoil pad. These are adaptive tactical shotguns.
You can fit ghost ring sights to this mag fed pump gun, a heat shield and a whole host of Mossberg accessories to create the classic high capacity shotgun. It's soft shooting, a classic pump action shotgun that you can reload in half a second. What more do you really want here?
---
2. Kalashnikov KS-12T Tactical
Price: $996.99
Barrel Length: 18.25 inch
Total Length: 38 inch
Weight: 8.86lb
Magazine Capacity: 10+1
Kalashnikov is so far ahead of the game right now that only the Mossberg's familiarity factor and the price means this is number two.
This Kalashnikov semi-automatic shotgun is a versatile work of art and it really is one of the best magazine fed shotguns for sale in 2023.
You can now get an official Kalashnikov that looks like an AK-47 to the untrained eye. I mean, why wouldn't you want that? These are the best tactical shotguns 2.0
It is the spiritual successor to the Molot Vepr 12 and the old Saiga shotguns. Really this semi automatic shotgun is that good and a lot of the parts & accessories fit too.
---
3. Rock Island Armory VR80
Price: $599.99
Barrel Length: 20 inch
Total Length: 40 inch
Weight: 8.27lb
Capacity: 5+1
The Rock Island VR80 won't win any beauty contests. But when it comes to functionality, this is a surprisingly high-tech 12 Gauge magazine fed shotgun for the money.
That weird fixed stock counts as a thumbhole stock, but also functions as a broad base monopod. That means you can lean on this rifle and get a firm base to take aim with that 20″ barrel, The flip up front sight and fully adjustable rear sights should help.
Check what the user reviews say and you'll see they love the Rock Island Armory VR80. This gets 4.5 out of 5 stars. That's impressive.
---
4. JTS M12AK
Price: $305.99
Barrel Length: 18.7″
Total Length: 39.37″
Weight: 7.75lb
Capacity: 5+1
The JTS M12AK is a simpler, cheaper version of the Kalashnikov benchmark for the mag fed shogun sector.
It has also won rave gun reviews from the people that really matter: owners across the land.
Check for yourself, then get a great AK-platform for bargain-basement money with a simple stock and pistol grip.
---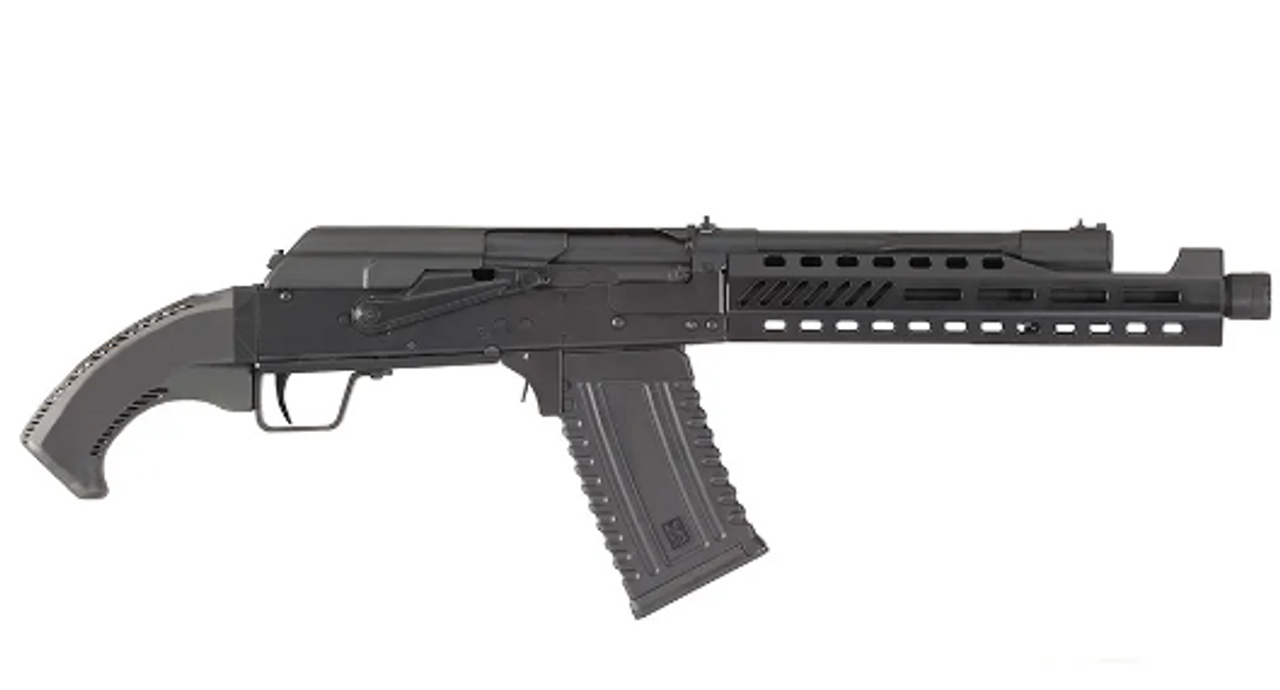 5. Kalashnikov Khaos
Price: $1,275.99
Barrel Length: 12.5 inch
Total Length: 31.5 inch
Weight: 7lb
Capacity: 10+1
The Kalashnikov Khaos is a 12ga in an AK-47 pistol frame. Just think about that for a second.
The Kalashnikov Khaos pistol is an AK shotgun pistol with a 12.5 inch barrel, and it's pretty much the best shotgun right now if you look at it coldly and logically. The detachable magazine release just works and you can reload in less than half a second with some practice.
It's a great Close Quarters Combat weapon, you can mix up mags with buckshot and slugs and it's about as potent a weapon as you can reasonably have by the side of your bed.
Upgrade to the 10-round mags, or 50-round drum mags, and you have got real options with your best magazine fed shotguns. The sky is the limit with mag capacity. And this is totally compatible with the old Molot Vepr 12 parts & accessories.
---
---
6. Black Aces Tactical Pro Series M
Price: $399.99
Barrel: 18.5 inch
Weight: 10lb
Capacity: 10+1
In the old days, Black Aces Tactical made the best mag fed shotgun from Mossbergs and Remingtons. Now it has used all that experience to move on from third party conversions and build its own firearms.
The company built the Black Aces Tactical Pro Series around Saiga magazines, which means you can strap a 100-round drum magazine on and shoot until it melts. Just flick the box magazine release with a finger, slot home the next mag and you're good to go.
You get an AR-style safety and charging handle, Benelli Mobile chokes, ambidextrous oversize charging handle and other neat features. It's soft shooting, costs less than a Hi Point, and is so much better.
---
7. EAA Akdal MKA 1919 Match Pro
Price: $403.99
Caliber: 12 Gauge ammo
Barrel: 20 inch
Total: 39.5 inch
Capacity: 5+1
The MKA 1919 Match Pro has achieved the seemingly impossible. It's a well-proportioned Colt M4-style shotgun that doesn't look completely ridiculous. In fact, it's kind of nice.
EAA bills this mag shotgun as an out the box low budget competition shooter. Features include an extended bolt release and mag release. You get two gas rings, and can use 3″ Magnum loads or 2 3/4 inch shells and slugs.
And the upper receiver looks basically right, from a distance, with a Picatinny rail up top.
This is a solid 3-Gun Competition mag fed shotgun for less than $500. If that's what you want, you don't have a huge amount of options. It's also accurate, reliable and a solid 12 gauge semi auto shotgun with a mag that works well for home defense.
Watch a 25-round mag dump here in just 3.42s. That's not bad…
---
---
8. Rock Island Armory VR60
Price: $422.99
Caliber: 12 Gauge
Action: Semi automatic
Barrel: 20″
Total Length: 39″
Weight: 7.4lb
Capacity: 5+1 rounds
RIA and Armscor, it's all basically the same thing with semi auto shotguns. This is the Colt M4 clone, the tribute to the classic 70s military icon that doesn't really work aesthetically, but is a very usable workhorse.
With the 19 round extended magazine, it's an absolute weapon of war when it needs to be as well. It even gets the cute carry handle.
Apart from that it handles largely like an AR-15, which is the point. Fit a good optic up top and you have got a very solid hunter with the right slugs in the single stack magazine.
---
---
9. Standard Manufacturing SKO Shorty
Price: $979.99
Capacity: 5+1/ 10+1 Rounds
Barrel: 18.5 inch
Total Length: 26 inch
Weight: 7.14lb
The Standard Manufacturing SKO Shorty was a box magazines shotgun before they were a thing. It's an AR-style semi auto shotgun. What's not to love?
In its time, this was really something, but the compact Kalashnikov USA and Mossberg magazine fed shotguns have rendered the Standard Manufacturing SKO Shorty largely redundant. But it's still cool.
The receiver is machined from billet aluminum and the Standard Manufacturing was well know for cycling reliably thanks to the overengineering that went in to this AR pistol style 12ga.
---
10. Panzer Arms BP-12
Price: $510.99
Barrel: 18.5 inch
Total Length: 29.5 inch
Capacity: 5+1
We are getting down into the new breed now, which you will either love or instantly dismiss as a novelty. When you break it down, though, the Panzer Arms BP-12, that's BullPup 12 Gauge, has a lot of positive features.
This is compact with a detachable box magazine, which nestles in the shoulder by design. The barrel is long enough to take it on a turkey shoot, although people might stare, and yet it's one of the most intriguing options here.
Put a reflex on that top rail and a strobe lamp and you've got more or less a home intruder's worst nightmare. As defense shotguns go, it's an almighty weapon out in the field, too, especially with larger 10-round mags that you can obviously source pretty easily.
Panzer Arms has a solid rep at a sensible price point.
---
11. Mossberg 590M Shockwave
Price: $572.99
Barrel: 14.37″
Total Length: 27.5″
Weight: 6.55lb
Capacity: 10+1 rounds / 20+1 Optional
The mag-fed Mossberg 590 Shockwave version is even more menacing in its own spectacular way. It's a Pitbull of a shotgun, or firearm if you want to get pedantic.
Of course there are a serious amount of 590M mag-fed pump action shotgun accessories out there and you can turn your Mossberg 590 Shockwave into a Zombie Apocalypse or home defense special.
We love 590M series Mossberg Shockwave magazine fed shotguns for that optional 20-round detachable magazine. It's a double stack magazine packed with 12 gauge. What more do you want in life?
---
12. Fostech Origin 12
Price: $3,060.99
Capacity: 10+1/30+1 Round drum optional
Barrel: 18.5 inch
Total Length: 36.25 inch
Weight: 9.2lb
The Fostech Origin 12 is one of those rare weapons that started life as a gaming creation and actually turned into a winning recipe in the real world.
Yes the Fostech Origin 12 is expensive, but it's a modular system that gives you a variety of different weapons in one. This is several high capacity shotguns in one.
Go for an AR pistol style that can mix it with the Kalashnikov, or go for the longer barrel and turn this Fostech Origin 12 into a 12 gauge slug firing marksman's rifle.
The Fostech Origin 12 can do it all. And if you want the best shotgun in the world at any cost, you just might be looking at it.
---
13. ATI Bulldog
RRP: $489.99
Barrel: 18.5
Total: 29.5 inch
Weight: 9.7lb
Capacity: 5+1
This American Tactical Imports Bulldog is another one of many bullpup shotguns in 2023 and it's basically a clone of the IWI Tavor bullpup rifle layout, tweaked to take 12 gauge shells. The action and the mag sit behind the trigger and it's surprisingly fun, durable and solid.
There isn't much innovation here and it is generic, but it works and the layout means it's great for inside the home. It's short enough to swing round your home and yet nestles into your shoulder to help absorb the recoil and straighten out your shooting technique.
The 5-round mags switch out for a 10-round alternative, which means it can mix it with anything here.
Go Tacti-Cool With Shotgun Accessories
You can also get a solid grip on this black synthetic polymer frame with a rubber recoil pad. There's a long rail for red dots, iron rear sights and tower front that comes with the package or other tacti-cool madness.
That fixed front sight is kinda fun, but we think we'd be looking for something more substantial in terms of a red dot sight.
It's not the most prestigious here, but the bullpup mag-fed shotgun is showing just how to make friends and influence people with great reviews on gun sites and user reviews on the gunbroker sites online.
It might be a bit of a mongrel, but we kinda like it. Apparently so do you.
---
14. SRM Arms M1216
RRP: $1,679.99
Barrel: 18.5 inch
Total Length: 33.75 inch
Weight: 7.75lb
Capacity: 16+1
The four rotating tubes on the SRM Arms M1216 makes it look a little like the much more famous tube fed shotgun, the Tavor TS-12.
But there's another trick up this tube magazine fed shotgun's sleeve. As well as a 16+1 starting capacity, you can pop those four tubes out as one and replace it with another 16 rounds of buckshot. It's not a box magazine really, but we're taking some creative leeway here for a fun gun.
That's cool, but be under no illusion that reloading this tube fed shotgun is as smooth as popping out a mag.
Compact, With a Serious Kick
Like the Tavor TS-12, this is a tube fed semi-automatic 12 gauge. So you rotate the tube into place and if there's a shell in the pipe then it will load automatically. It's a roller-delayed blowback firing system, much like the iconic HK SP5, which isn't a bad system to copy if you're going looking for inspiration.
---
15. Remington 870DM
RRP: $403.99
Barrel: 18.5 inch
Total Length: 38.5 inch
Weight: 7.10lb
Capacity: 6+1
The best magazine fed shotgun battle had come down to Remington and Mossberg, well the mag-fed pump action shotguns anyway. For a long time, the Remington held the advantage, but we haven't seen one for a while.
That's a shame. We liked the Remington 870 DM Tactical and kinda hope it makes a comeback. That's why we're saving its place at the mag fed shotgun shooting table, or something…
Remington 870 is a Hall of Famer
The Remington 870 12 gauge pump action shotgun is an icon. It has been with us since 1950 and although it has evolved, it has been basically the same since. Until now, when the Remington 870 Express has basically sprouted a mag for your slugs or buckshot.
The addition of a magazine changes the gun's character, as well as its potential.
It's very clearly an 870 that has been modified with the grafted on mag receiver, and that's good. It just needs a bigger mag.
---
Where to Buy the Best Magazine Fed Shotguns
Not every dealer loves these variants of the classic 12 gauge shotgun. Palmetto State Armory pretty much always has them in stock, though, as well as Guns.com
It's fair to say Palmetto State Armory has emerged as our go to in recent months.
Palmetto State Armory built its brand on cheap prices and great customer service. That's still true if you're buying a Mossberg with a black synthetic stock or a wild camo 12 gauge semi-automatic shotgun from Black Aces Tactical.
Beyond the Magazine Fed Shotgun? Check Out These
These are cool guns, but by definition you won't get all the top guns in a post devoted to the best magazine fed shotguns. That leaves out a lot of design options for shotguns for home defense.
So if you're looking for a gas operated Benelli, Smith & Wesson or a turkey blaster, well you're shit out of luck here in the best magazine fed shotgun land. But we want to make you happy too, as well as sell you magazine fed shotguns, or a magazine fed pump action shotgun and drum mags.
---
All rights reserved. For privacy policy terms & conditions please contact us at the main email address and customer service will try and get back to you on your email address. But honestly, just don't sell our personal information, including our email address, and we won't sell yours. Deal? Now skip to content.