The Best Semi Auto Tactical Shotguns
There are few sexier weapons than the 12 Gauge Semi-Automatic Tactical shotgun.
Why? Because it's a weapon of war.
It's not a hunter, or a gatherer. This is not a toy for clay pigeons. It's an assault shotgun.
The semi-automatic shotgun has lethal intent and is destined for serious stuff…
Watch the scene in John Wick 2. Then watch it again. It's epic and made me start shopping for Benelli M4s. Maybe I am gullible after all…
---
Shotgun Mag Capacity is a Problem
Of course, even the best semi-automatic shotguns always face that one big problem: capacity.
There are a couple of novel solutions to that dilemma on this list. But even with limited shells, they're still absolute beasts for home defense.
Modern slugs give you real options to traditional buckshot and we think these are some of the best guns on the open market.
So, here are our favorite 12 Gauge semi-automatic shotguns for sale in 2023.
1. Benelli M4 Tactical (M1014)
Price: $1,988.99

Barrel: 18.5 inches

Total length: 40 inches

Weight: 7.8lb

Capacity: 5+1/ 7+1 with extension tube.
Update: Benelli stocks are all over the place at the moment. For a number of other live links, if this one isn't working, check out this post.
On a technical level, we don't think the Benelli M4 actually belongs here, this high up the list, anymore. There are simply better, more tactical options.
So if you're looking for pure performance, keep scrolling down for added capacity and fast reloads.
If you want the benchmark, though, the tried and trusted semi auto tactical shotguns that are also an absolute work of lethal art, then the Benelli M4 is still the daddy. So there's a certain respect for tradition that has gone into this list, as well as just an objective look at the firepower.
Why is Benelli a Legend?
Prestige, heritage, military connections with the US Marine Corps, engineering prowess and a couple of other things came into the mix. I'm not going to lie, John Wick helps a bit too.
Fundamentally, though, the Benelli is the shotgun that should never let you down.
This is a sublime handling shotgun that feels tight as a drum in terms of tolerances and yet butter smooth in terms of the action. It's a work of wonder and to shoot a Benelli M4 is to love one.
It is also the 12 gauge that the Navy SEALs, the United States Marine Corps and just about everybody else uses in the heat of battle. That has to mean something.
The military endorsement is cool and the Benelli M4 has been proven to be one of the most reliable semi-automatic shotguns in the known world.
That's why it's popular and one of the top rated semi-auto shotguns on sale. Is it the best anymore? Well it's a tough call.
Pure Precision Engineering
Everything, from loading it through to emptying all 8 rounds of heavyweight buckshot into a target, is a chance to play with pure precision engineering. You can feel it in every part.
There are a wide range of best-selling pump action shotguns at Benelli, too, for less money. And side by side field shotguns for clay pigeons. But this is the 12 Gauge semi automatic poster child and has been for a long time.
Tech Highlights
The self-cleaning, Auto Regulating Gas Operated ARGO piston is just stellar, you can strip it in the field in seconds, thanks to the SOCOM requirements, and it's up there with the best of them in terms of accuracy.
You will need the mag extension tube, in fact if you're going tactical then I have assumed you would. But it's still 7+1 and that makes me nervous. You'd need a sidearm, or an AR pistol as a back-up. Unless you're super awesome with quad loading, of course…
A Mag Would Be Sweet
The elephant in the room with the Benelli M4 is always going to be capacity for an assault shotgun.
I fully expect to see a magazine on the next gen, or a separate shotgun. When we get mag-fed Benelli shotguns then I think we'll have the best home defense shotgun in the world by a comfortable margin.
Even without one, the Benelli M4 is still arguably the top semi automatic shotgun for sale in 2022.
---
2. Kalashnikov KS-12T Shotgun
Price: $991.99
Caliber: 12 Gauge
Barrel: 18.25 inch
Total Length: 38 inch
Weight: 8.86lb
Capacity: 10+1
This is a modern sporting rifle spitting out 12 gauge shotgun shells from a detachable box magazine you can change in a second. It takes drum mags, you can have 50 rounds and the Kalashnikov KS-12T will turn you into a one man wrecking crew.
This is an update on the classic AK-47 design, with a collapsible AR-15 style stock, propergrip and Picatinny rails giving a quad rail up front. The classic lever action safety remains.
With a red dot and some serious slugs or other heavyweight shotgun ammo, this mag-fed shotgun could be a monster.
It comes loaded with 10 rounds and you can pop out a mag and start firing again in under half a second. Inevitably, it's a gas-operated system.
High Capacity Mags? No Problem
You can also use Saiga mags and drums, which opens up an arsenal of high-capacity shotgun options for you.
Technically, we think this is the best shotgun here. Organize this list price low to high and it's also one of the cheapest. Which counts for a lot.
We love the pistol version further down, too, but this might be the most complete semi-auto shotgun here. If we were braver, it might even topple the Benelli.
---
3. Tavor TS-12
Price: $1,340.99
Barrel: 18.5 inch
Total Length: 28.75 inches
Weight: 8.85lb
Capacity: 15+1
We love the Tavor TS-12, and now, seriously, you can buy one. We thought it was never coming too, but you can.
It's an evil looking shotgun isn't it? And while some of you will be seriously questioning my sanity, and maybe my parentage, in its own way this is tactical as f**k.
High Capacity Shotgun With 25 Rounds
You get 15 shells, five in each of three tubes. Rotate the tube, the next shell finds its way to the chamber and you're ready to go again. With mini-shells, which might work, you could have up to 25 rounds on tap.
It makes the Tavor TS12 one of our favorite high-capacity shotguns out there.
You're basically done when it's out of ammo, is the only issue. That mag is fixed in place and can't be switched out for a full one. There is a loading tube at the rear and you can load one and fire. But basically once you've let loose with those 15 rounds, you've got an issue.
But when was the last time you actually did need more than 15 shells for a self-defense situation? It has never happened to me…
Law Enforcement Officers and military will likely stay away from the Tavor TS-12 because it's a relative dead weight after the first onslaught. The complexity of the operating system should also make you a little nervous.
Fun, More Than a First Line of Defense
It's probably not the first port of call for a defensive shotgun because there are so many moving parts.
Now the actual technology behind this is not rocket science, but every layer of complexity tends to tug at reliability. It seems inevitable that you're going to have to go at the Tavor TS12 with the gunsmithing tools at some point.
There are better options here for defense, then. But as a fun gun, a piece of operating system engineering to enjoy, it's spectacular. And all the controls are ambidextrous for left-handed operation.
The barrel is 18.5 inches long and it comes with a full Picatinny rail for a sight or even a scope. You could load up one tube with buckshot, another with slugs and the third with, well, whatever you like.
The stock gets a rubber recoil pad and it really is awesome.
Does the Tavor TS-12 Work?
The accuracy is on point, and IWI make solid gear and there's no reason to suggest you couldn't use this as hunting shotgun or for a field sport weapon if you're that way inclined. Personally I'd love to see someone blasting clay pigeons out the sky with one, just for the perversity of it all..
This shotgun is also destined to star in a lot of movies in the years ahead. We're just glad it's finally here. Buy your own 12 Gauge gunporn lunacy now.
Want Something Simpler and Cheaper?
This is a hell of a lot of moving parts and compex engineering. So if you want to cut down on that, but still get most the benefits, how's about a Kel-Tec KSG?
The Kel-Tec is a pump action shotgun, so we don't really have a space to cover it properly. But it's a simpler and cheaper version of the Tavor, so bear the Kel-Tec in mind.
Check here for more bullpup shotguns, too.
---
4. Rock Island Armory VR60
Price: $419.99
Barrel: 20 inch
Total Length: 39 inch
Weight: 7.4lb
This is quite clearly a rebranded Armscor. RIA hasn't even changed the name of the VR60 and this is really a slightly more Colt M4 looking version.
That's fine, as this is a solid addition to the list.
You might like the homage to the old-school Colts with the carry handle up top and a vague profile that fits the American hero.
Colt Tribute Act Counts in Its Favor?
That might be enough to swing it in favor of this semi-automatic shotgun for sale. The 5+1 OEM mag switches out for another high-capacity magazine. You get a proper adjustable choke tubes in the clumsy handguard, with an adjustable choke to accommodate different loads.
It's a stock black finish, with a hard anodized coating, and it feels basically like an AR-15 with a fixed stock. That's the point, and people that don't spend too much time with a shotgun in their hand might prefer the familiar shooting technique that comes with an AR-15 style shotgun.
Gas System Hiding in the Handguard
The RIA shotgun offers a simple gas operated system that is packaged with the shotgun return spring, around the support tube that runs beneath that long rifled barrel. It's all contained within that suspiciously chunky black polymer handguard.
The user reviews on the gun broker sites are pretty stellar and the potential for 20 rounds of pure carnage between reloads does make the RIA VR60 shotgun an attractive option. If you prefer an AR-15 over a traditional shotgun, then this might be the shotgun you never knew you needed.
---
5. Stoeger Industries 3000 M3K
Price: $569.00
Barrel: 24 inch
Total: 48 inch
Weight: 7.3lb
Capacity: 10+1
The Stoeger Industries 3000 M3K is a cheap Remington Versa Max and Benelli M2 rival that is an ideal field shotgun and 3 Gun shotgun starter pack.
The Stoeger Industries M3K competition shotgun is visibly cheaper than the Benelli M2 and Remington Versa Max. But then that's the point, it is a lot cheaper. Less than $700, in fact.
Stoeger has carved a formidable reputation as a budget pump action shotgun manufacturer and its more advanced guns do the business too.
Premium Touches at Mass Market Price
The Stoeger M3K 12 gauge shotgun comes with an extended bolt release, a beveled loading port and a 10+1 capacity thanks to that long magazine tube and barrel. It's drilled and tapped for a Weaver optic rail, it's super fast to reload and this really is a proper competition shotgun for not that much money.
A 24 inch barrel does mean that it's more of a hunting sniper shotgun, rather than a personal defense weapon.
Hunt With Slugs
But load up on some evil slugs and this could be a beast of a hog hunter. Break out the shot and you can take down turkeys and deer with this 12 gauge semi-automatic shotgun all day long, and then you can enter a 3 Gun competition with it.
This is a big capacity sporting shotgun. But it's a properly versatile shotgun too, and we think you might like it. Stoeger does some solid pump shotgun offerings too.
---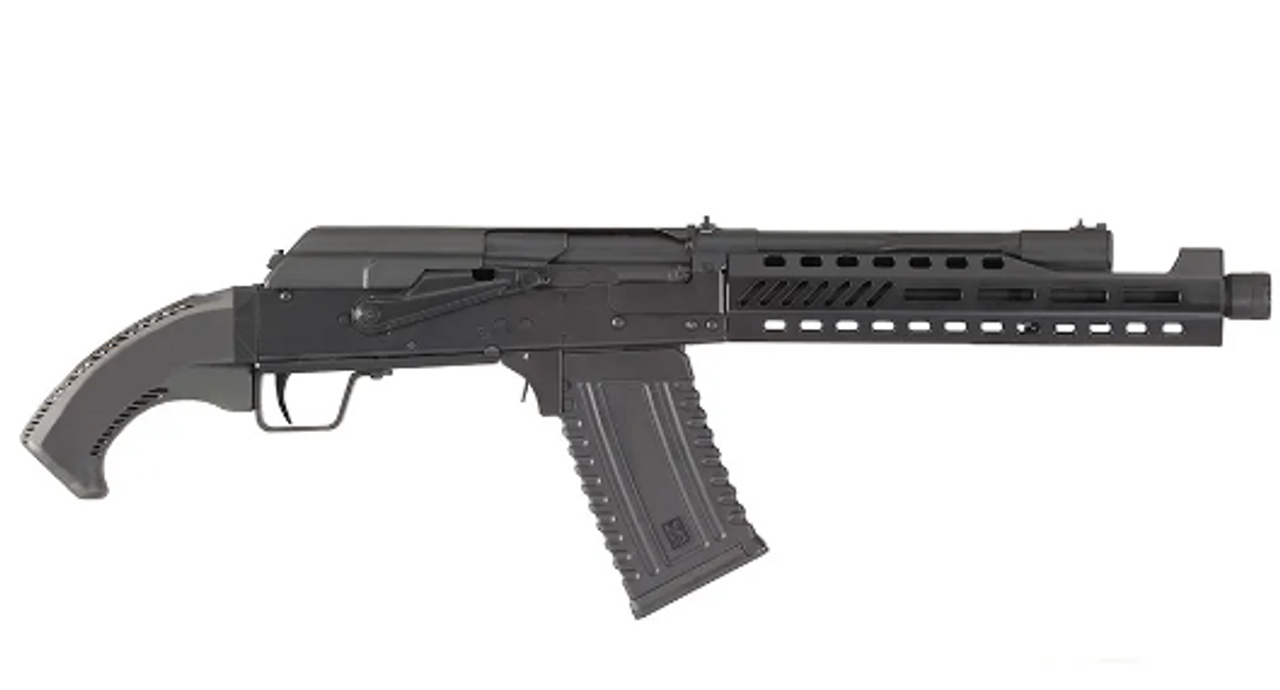 7. Kalashnikov Khaos 12.5
Price: $1,292.99
Barrel: 12.5 inch
Total: 31.5 inch
Weight: 7.85lb
Capacity: 5+1
The Kalashnikov Khaos pistol shotgun is an incredible thing that could easily be your winner.
This will send the purists into a total meltdown, but seriously this was so close to being the overall winner, and might get there again. This might just be the best defensive shotgun for sale in 2023.
AK Layout, Short Barrel Monster
It's an AK receiver style shotgun, black finish of course, with a 12.5 inch barrel and a simple pistol grip.
Then there are the mags, which you can upgrade to 10-round options if you are that way inclined. I am. You can also slot in just about any Saiga mag, including the 50-round drum magazines we all know and love.
Alternative to AR Pistol for CQB
This is a seriously flexible and potent weapon that is a Close Quarters Combat megastar, and the box magazine shotgun concept means you can switch between buckshot and slugs to give the gun totally different characters and totally different ranges.
Pick your 12 gauge ammo with care and you've got the ultimate bedside weapon, bear defense, just about anything you want in the end. It's almost a concealed carry pistol that packs buckshot. Think about that…
Your New Favorite Firearm?
The Kalashnikov Khaos shotgun for sale is a serious weapon that could displace some of the favorites in your gun safe.
You get tri-rails for tactical gear and Saiga parts & accessories slide right on.
Short Barrel Creates CQB Carnage
The short barrel turns serious buckshot into pure evil at close quarters, while slugs will be effective at anything like personal defense distances.
You will lose some range that you'll get with the 18.5-inch barrel version. That's inevitable, but you get an awful lot in return. It's easily the best tac shotgun on this list and we're waiting for the Benelli and Mossberg fans and the healthy debate we know is on the way.
This is the next generation shotgun and it's absolute gunporn. There really isn't a more complete defensive shotgun out there right now.
---
8. ATI Bulldog SGA
Price: $510.07
Action: Semi Auto
Barrel: 18.5 inch
Total Length: 29.5 inch
Weight: 7.75lb
Capacity: 5+1
American Tactical Imports cherry picks the world's finest firearms, at a certain price point, and then imports them to the United States under the ATI badge.
They include the majestic plastic AR-15 for $500 and the GSG Firefly 22 pistol. a plastic AR15 rife and they also import the GSG Firefly.
Now American Tactical has brought one of the best bullpup 12 gauge shotguns on sale. If you organize the price low to high and don't go above about $400. That's OK, lots of people want a cheap shotgun with skills…
---
---
9. Benelli M2
Price: $949.99
Barrel: 18.5 inch
Total Length: 39 inches
Weight: 6.7lb
Capacity: 5+1
What's the main difference in your hands when it comes to the Benelli M2 vs M4? Weight…
There are other critical differences, that contribute to the significant price difference. But for most of us the Benelli M2 is all the semi-auto shotgun we will really ever need. And it's more than 1lb lighter.
The gas operated M4 vs inertia driven M2 is the discussion you're really having there, and the inertia system is tried, tested and trusted around the world.
This isn't quite a Mil-Spec shotgun, but it's good enough for you and me. The Benelli Performance Shop offers a range of upgrades, too, that turn the humble M2 into a real weapon.
---
10. Rock Island Armory VRF14
Price: $521.99
Barrel: 14 inch
Total: 48 inch
Weight: 6.6lb
Capacity: 19+1
This short barrel shotgun comes with a 5+1 magazine, but you can switch it out for a 19+1, and that makes it a pure sexy option.
There's no stock to speak of, so this really is RIA's answer to the Shockwave and Tac-14 options from the big players. This is a 12 Gauge semi-auto shotgun, though, and the mags do add another dimension to your defense shotguns. As we may have mentioned once or twice…
Armscor and RIA are part of the same umbrella these days and they both mass produce affordable, reliable and pretty decent pistols and shotguns. This one is also super wieldy and great for indoors, so we really do think you can make a case for the RIA.
---
11. Mossberg 930 Tactical SPX
Price: $1,106.99
Barrel: 18.5 inch
Total Length: 39 inches
Weight: 7.75lb
Capacity: 8+1
If you're on a budget, this is the best of the traditional tac semiautomatic shotguns with the pistol grip and proper stock. It's a bargain in this company.
Here the Mossberg 930 SPX comes with a full length stock, ghost ring sights at the rear and an M16 fiber optic front sight. Aside from that, 8+1 is a solid capacity and actually gives it the edge over far more expensive offerings.
Clearly, the fit and finish isn't quite a match for the Benelli M4 and that's why it costs half as much. The Mossberg 500 is a tactical pump shotgun that is even even cheaper.
Mossberg does have a stellar reputation for reliability and law enforcement officers all round the country rely on a Mossberg 930 Tactical SPX as their duty shotgun.
The Mossberg 500 and and the new wide range of mag fed shotguns are also popular choices. You can order a side by side, of course you can, but the pump shotgun Mossberg 500 or this 930 semi-auto shotgun are more useful in a fight.
---
12. EAA MKA 1919 Match Style
Price: $403.99
Caliber: 12 Gauge ammo
Barrel: 20 inch
Total: 39.5 inch
Capacity: 5+1
EAA has won our hearts and minds with a wide range of imported pistols and they've managed to find another winner here. This is an AR style shotgun that doesn't look stupid, like at all.
EAA is also confident in this gun's abilities. The company is marketing this 12 gauge semiautomatic shotgun with a 20 inch barrel as a cut price competition shotgun. Is it? Time will tell…
It has a 20 inch barrel, a synthetic stock and you can adjust the choke at the end of that faux MLOK handguard.
If you're looking for an AR type shotgun, this might be the best. At this price, anyway.
---
---
13. Beretta 1301 Tactical
Price: $1,409.99
Barrel: 18.5 inch
Total Length: 37.79 inches
Weight: 6.3lb
Capacity: 5+1
Thie Beretta 1301 Tactical is probably the prettiest 12 gauge shotgun here, but we tend to want a little more than a fresh look.
This is the Beretta 1301 Tactical Marine, which offers a synthetic stock and contrasting stainless steel chassis. That bit is cool, and the profile of the gun just works.
But does the gun work? That's the real question and I have capacity anxiety just looking at the number of shells you start out with. I won't carry a revolver because six shots isn't enough. Well…
It's too few shells and it drops the Beretta down the order, although we kind of like the Beretta 1301 Competition. That's a shame, because it is a really pretty gun and the cycling speed is intense. But with that capacity, you might as well have a 12 gauge pump and a mag, or any other high capacity solution.
---
14. Black Aces Tactical Pro Series M
Price: $299.99
Barrel: 18.5 inch
Total Length: 38.75 inch
Weight: 8lb
Capacity: 5+1 rounds
Black Aces Tactical made third party magazine fed custom shotguns, before the big boys started to make their own.
Now, the company has refined the product and made a cost effective alternative to the Mossbergs and Remingtons of this world with the Black Aces Tactical Pro Series.
This Black Aces Tactical Pro Series gets a billet aluminum receiver, an AR style lever action safety. it also gets a seriously attractive price tag for a mag shotgun.
Black Aces Tactical also produces a top-rated bullpup shotgun and a whole line of shotguns that you can see here. You can also buy the company's cheap ammo that gets rave reviews.
---
---
15. Charles Daly AR12S
Price: $347.99
Barrel: 18.9 inch
Total Length: 38.75 inch
Weight: 8.5lb
Capacity: 5+1 rounds
This is a pretty generic matte black AR layout shotgun, to be honest, and we think Charles Daly makes some interesting shotguns.
But this is a good price for a solid gun with a lookalike fixed stock and all the shotgun goodness underneath a matte black plastic shroud.
This is a perfectly solid choice that shouldn't give you any surprises. And we like the price of these semi auto tactical shotguns.
---
16. Benelli Super Black Eagle 3
Price: $1,614.99+
Barrel: 24 inch
Total Length: 47.5 inch
Weight: 6.9lb
Capacity: 3+1
The Benelli Super Black Eagle is a new addition to the Benelli line-up and it doesn't really follow the blueprint for defense shotguns.
But that 26 inch barrel and ultra light weight certainly make an appealing combination for big game hunters, turkey hunting and other recreational shooting.
---
17. Citadel Boss 25
Price: $425.99
Capacity: 5+1
Barrel: 18.75 inch
Total Length: 41 inch
Weight: 6.5lb
The Citadel Boss was one of the pioneers of the AR-12 and it has stood the test of time well.
You won't find too many surprises here. It's a little plasticky and yet this is a reliable shotgun with detachable box mags. There's a little adjustability in the stock and a barrel shroud and faux compensator that might make it look like a custom rifle, from a distance, if you squint.
And it's cheap.
So yeah, we like it.
---
18. Panzer Arms BP-12
Price: $867.99
Barrel: 18.5 inch
Total Length: 39.75 inch
Weight: 8.12lb
The Panzer bullpup shotgun is pretty deep into gimmick territory if you want to take the cynical approach.
It's a mag-fed shotgun in a basic bullpup without some of the more important features if you're being kind and that makes it a pretty good start as semi-auto shotguns go. There is no walnut stock, sadly, and you get a stock black polymer finish. But you do get a meaty pistol grip.
Panzer has an AR style shotgun on sale, too. The Turkish firearms manufacturer is making a name for itself with solid feedback and great user reviews on online gun stores.
This semi-auto shotgun resembles a Colt M4 AR-15 and that is hardly a new idea, but it really does work here as a functional semi-automatic shotgun for everything from defensive duties to shotgun hunting.
I would love to see someone pull this semi-auto shotgun out at a field sport event too. The fold down sights could easily be switched out for a red dot. Then you've really got something here.
Check out more of the best bullpup shotguns here.
---
19. Fostech Origin 12
Price: $3,163.00
Capacity: 10+1/30+1 Round drum optional
Barrel: 18.5 inch
Total Length: 36.25 inch
Weight: 9.2lb
It looks crazy, the price is crazy and the back story is crazy. But everybody that has shot the Fostech Origin 12 comes away saying the same thing. This gun is the real deal.
This is another gun that started life in movie games, in the Warface franchise. Now it has crossed the divide, it's real and you can buy one.
You can choose the longer shotgun or a shorter AR-pistol type layout, or AK pistol if we're being precise. It offers a wide range of configurations.
The Fostech is heavy, but it's a beast of a weapon and apparently you just can't get ahead of it in terms of the cycling speed. That's impressive and this guy thinks it's the world's fastest shotgun…
The gun is too heavy for competition and the numbers say there are more reliable options. So really it's just a bad to the bone shotgun system for fun. That's OK too.
---
20. Remington Versa Max Competition Tactical
Price: $1,469.99
Barrel: 22 inch
Total Length: 44 inch
Weight: 8lb
Capacity: 10+1
The Remington Versa Max Competition Tactical is a beast of a long barrel shotgun that has slowly evolved to meet the needs of the 3 Gun competition shooting crowd. We haven't seen one for a while, but we hope it comes back soon…
Because it is a devastatingly accurate shotgun that cycles as fast as anything this side of a custom gun.
It has become an icon in the competitive shooting sports and people take the Remington Versa Max turkey shooting, 3 Gun competition shooting, clay pigeons and a lot more besides.
The Remington Versa Max Tactical in all its forms is also a joy to shoot and you're going to just love this shotgun. It's worth every cent when it's in your hands.
---
Tube Magazine Extension vs Box Magazine Shotgun
You don't get a box magazine shotgun here, just a long tube magazine with a two-round carbon-fiber extension that gives the Remington Versa Max Competition Tactical a more than respectable 10+1 rounds without really resorting to any tricks.
You get a lightweight forged aluminum receiver, Cerakote finished, and a nickel-plated barrel and internal components.
The recoil reducing Supercell pad is a useful addition, but shotgun aficionados will tell you that it comes a long way behind the incredible reset speed and cycle speed of this shotgun. That's the USP here.
The Remington Versa Max Competition Tactical is hella accurate, hella fun and it might just be your personal favorite after you take it out in the field. But if you're doing field sports, Remington has a side by side for you, and maybe a flat cap.
---
21. Mossberg 930 Pro Series
Price: $649.99
Barrel: 24 inch
Weight: 7.75lb
Capacity: 9+1
We went with the stock Mossberg, but then we included everybody else's 3 Gun Competition shotgun and the Mossberg 930 JM Pro is cheaper than all of them.
So if you want a really basic competitive shotgun to get started in 3-Gun, or you just like the mods and want to use your 12 gauge target shooter to blast turkeys, well it's yours. Do what makes you happy.
Mossberg makes excellent 12 gauge pump shotguns, too. But this is an underrated starter gun for competition or all-round field sports.
---
22. SRM Arms M1228
---
Price: $1,532.99
Barrel: 18.5
Total Length: 33.75 inch
Capacity: 28+1 rounds
---
No, seriously, 28+1 12-gauge shotgun rounds, with a slight catch. It's a novel approach, but you have to say it ticks most the boxes.
This gun is built around the Aguila mini-shell shotgun ammo, so it doesn't carry that many 3 inch slugs. That's a limitation, we're not going to lie.
But the payoff is that you get 28+1 rounds in those four-tubes, seven in each tube in that clever rotary magazine. So you keep hold of the pistol grip stock and you should be able to obliterate anything that was basically in front of you.
Multiple Tube Mag, Similar to Tavor
Twist the tube and the SRM loads the next round automatically. That's remarkably similar to the Tavor TS-12 that may turn out to be the better option in the long run, but this is a mag you can switch out.
Changing the magazine on the SRM Arms M1228 isn't quite like dropping a mag from a box-magazine fed shotgun and slotting another home. But it isn't that painful.
This video features the 16+1 round version for full-sized shotgun shells and it shows that this is a workable system for a high-capacity shotgun pumping out 12 gauge ammunition.
Watch the video in full for awesome insights into the rate of fire and the sheer destructive capability of this weapon of war. It isn't great for a field spot, but for close quarters combat then it absolutely rocks.
With 28+1 minishells, this thing is basically beyond AR-15 capacity with fricking shotgun shells, slugs and whatever else you want to throw at this particular situation.
You could turn each tube into a different option, from slugs through to non-lethal options, which makes it an intriguing option for law enforcement officers and people that just like blowing the shit out of stuff.
The rate of fire is pretty amazing and it's a fun firearm that can give you a completely different vibe.
---
---
23. AA-12 Sledgehammer
Price: $3,250

Barrel length: 18.5 inches

Total length: 38 inches

Weight: 10.5lb

Capacity: 20-round drum mag
Update: There were stories of seizures by the ATF due to markings that weren't compliant back in August and we haven't seen these new arrivals on sale since. So maybe let them get that stuff sorted before you buy one…
This is 12 gauge taken to the next level and believe it or not it has been with us for 45 years. Seriously, we have been waiting that long for the civilian version of fully automatic military hardware that made its debut in 1972.
If you could buy one on the open market, it might really be the winner, because this really is an assault shotgun in the true sense of the words. It's a high price, high spec shotgun you want in your life. But you can't have it…
Check out the fully automatic version. It really is a thing of beauty and the lack of felt recoil really does have to be seen to be believed. It's softer than an AR-15 and 12 gauge semi-automatic shotguns like this have homes waiting around this great nation.
Gas Operated System Kills Recoil Dead
That was a fully automatic option that was a revelation due to the sheer lack of recoil. Essentially, the gas system absorbed 80% of the recoil, a recoil spring accounted for 10% more and the general consensus is that the AA-12 offers about 10% of the recoil of a standard 12 Gauge round.
It has taken forever to get this version and now it looks like the ATF may have taken arguably the best gun away from us forever.
It's a closed-bolt design, unlike the open bolt automatic version that owes much to the basic machine gun architecture.
Big Screen Star
While the gun hasn't been available to buy, it has become a video game and movie star, which isn't too surprising considering the insane firepower on offer here.
20 rounds from the drum mag or 8 from a box mag mean this simple gun offers AR-functionality with 12 gauge stopping power.
Sounds good doesn't it? Maybe too good to be true. But if the Sledgehammer ever gets past this, then it could easily be the best shotgun, period. We may end up with some weird 12 gauge tribute act at the end of all this though, and we'll still buy it.
---
---
Honorable Mentions…
When we get time, we might go further into these guns, but for now we just don't think you want us to think we've forgotten the likes of the Smith & Wesson M&P12. That's a potentially awesome gun, with some teething issues, so it can stay here for now.
Typhoon Defense is another one creeping up the rail with a series of interesting shotguns. Next time round we'll include them…
The Century Arms BP-12 is another bullpup that looks the part. Century Arms make a lot of cool stuff, too, including the Draco Gun. So we'll give their shotgun a chance soon and you might want one at your FFL dealer before too long.
Where to Buy 12 Gauge Ammo
The price of ammo is rising, and things like copper prices are having a big time effect. Handgun ammo, rifle ammo, shotgun ammo, it's all up. But there are still places to get bargains…
Here are our favorite suppliers…
---
Want Different Guns?
Well step right up to the USA Gun Shop folks. We got rifles, shotguns, handguns, ammunition, optics and just about everything else you need to live as an upstanding citizen.
If you're looking for a single shot pistol, lever action, bolt action shotguns, a side-by-side, a single shot rifle, single shot pistol or just about any other sort of firearms, we got you. You want black powder? We can do ship them right to your chosen ffl dealer. Well, our partners can.
Have a look at some of these posts for the best of the best, new arrivals, and the cheapest of the cheap. We do that sometimes too, but they're still the best cheap guns and home defense options we can find…
Buy Semi Auto Shotgun parts, accessories and spares
If you're looking to buy choke tubes, a case for side-by-side shotgun or even gun safes for your 12 gauge semiautomatic shotgun and gun parts, we can help.
Ear protection, gun cleaning supplies, gun cases and the best selling game calls. We got em all. Rifle scopes too. Or one of our partners does. Gun cleaning supplies are dull, but they're important, we should cover them more…
Check out these quick links for gun parts, semiautomatic shotgun spares, black powder guns, semiautomatic shotguns, parts, accessories, optics, and lots more. We also got gun cases and shiz.
---
All rights reserved. Privacy Policy terms & conditions are available on the main email address and of course our massive customer service dept is on hand to help. I'm lying, there is no customer service, or privacy policy..